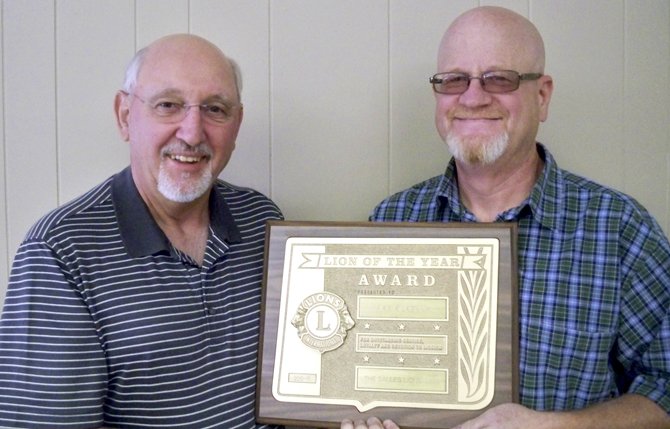 The Dalles Lion's Club held their annual meeting June 18 at the Fort Dalles Riders Club, including giving recognition to members instrumental in accomplishing goals of service to The Dalles community.

Activities included fund raising for the library fund, sorting and collecting food for ELFF, bell ringing for Salvation Army, a Christmas tree for the Festival of Trees, the annual after-Christmas tree pickup project, and Community Meals, among others, according to a club announcement.
Three major awards were presented to Lions contributing time and leadership throughout the year:
• Jerry Urness was presented with a Service Chevron Award recognizing 50-years of Service to The Dalles community and to The Dalles Lion's Club;
• John Layson was awarded the Melvin Jones Fellowship Award. This award is presented to a member recognized for leadership and contributions to The Dalles community, to The Dalles Lion's Club, and for their continuing efforts to promote the ideals of Lionism;
• Mike Kilkenny received the Lion of the Year Award for 2012-2013. Each year one Lion Member is presented with special recognition for contributions and service.
During the year, Kilkenny participated in every activity. He could always be depended on to be available for planning and on-the-ground work to make a project successful. He has given generously of his time and enthusiasm that helped make the 2012-2013 a success.
Also attending the meeting was the Current Lion's District G Governor Steve Oliver, from the Elgin Lion's Club and Bill Burley, District G Governor Elect, from the Huntington Lion's Club. They presented awards and new membership certificates, and installed the new officers guiding The Dalles Lion's Club for the 2013-2014 program year.