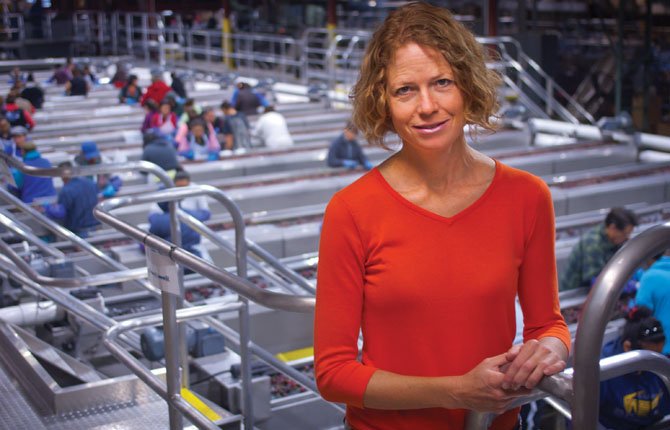 The Dalles — "Cherries have always been in my blood," says Brenda Thomas, president of Orchard View Farms in The Dalles.
Thomas is the oldest in her generation, the fourth to operate Orchard View Farms since Walter Bailey established the company in 1923.
Despite that pull from the orchards that surrounded her as a child, Thomas started her working career as a veterinarian before joining the family business six years ago.
"I needed to do it while I still had energy in my 40s," she said.
The need for energy is understandable. Orchard View Farms has grown from producing 24 tons of cherries in its first year to producing 25 tons an hour during its eight-week season, for an estimated total of 10,000 tons per season. The company also has a proprietary packaging process that extends freshness of cherries up to two months and is licensed to other companies worldwide.
Thomas oversees the management team who operate 2,000 acres of orchards, employ 700 picking and processing workers during the height of the season, and ship cherries to all corners of the globe.
"Cherries are a challenge and a gamble," Thomas said. "You have to have a big-picture view and you have to get along with people. It's all about having a strategy."
Orchard View's strategy, better known as "Bob's Vision" for former company chief Bob Bailey, Thomas' father, is to be able to supply the packing house with cherries every day for eight weeks.
"That means planting all the right varieties and different locations to maintain the supply to the packing house," Thomas said. The company has orchards in Wasco, Hood River, Sherman and Klickitat counties, allowing it to take advantage of a variety of growing climates that help to spread the harvest season.
Counterbalancing that volume with a dedication to high quality is critical.
"It's what Orchard View Farms is all about," Thomas said.
Critical to that equation are people with horticulture experience and knowledge, she added.
Thomas sees her key role as that of a collaborator, to try to bring people together to solve problems as a management team.
As part of a family business, she says patience is critical.
"With family, sometimes we say too much to each other that we would never say to another person," Thomas said. "Or we have higher expectations of family members and maybe that's appropriate — there's definitely a balance in a family business."
Inevitably, the question arises of whether a family member is working for the company because she is family or because she has the skill set required.
"And how do you encourage other family members to participate?" she pondered.
Outside help is important, Thomas said.
"I've had mentors and consultants to help me."
Thomas' 18-year-old son is part of the fifth family generation to work at the business. He'll have a chance to decide whether he wants to make his career at Orchard View Farms.
"Right now he wants to be a theater major," Thomas said.
Asked about the challenges of her job, Thomas said: "It's the challenge of the market and how you fit into the market — how you play in the market — because you don't get to create the market, only play in the market."
Another challenge is overseeing so many workers, keeping them safe and the workplace enjoyable enough and a good enough wage so the workers will want to come back year after year.
Thomas also was quick to note that cherries are not a commodity. In other words, they can't be stored for long periods and shipped only when the market is at its best.
"It's very much a pick-pack-and-ship business," Thomas said.
Part of that challenge is matching the right cherries — and packaging — to the right customers.
Walking through the busy processing house, Thomas points to cherries packed in different boxes to satisfy different customers.
Some of those cherries will be exported around the globe to small shop keepers or stall owners who may be in the same marketplace. The shop-keepers won't want to be seen as having the same products as each other.
Orchard View Farms does not market its own cherries. Instead, they are marketed by The Oppenheimer Group. While Asian destinations represent the company's largest market, the Middle East, Russia, Dubai, the United Kingdom and Brazil are also cherry destinations, as are United States markets.