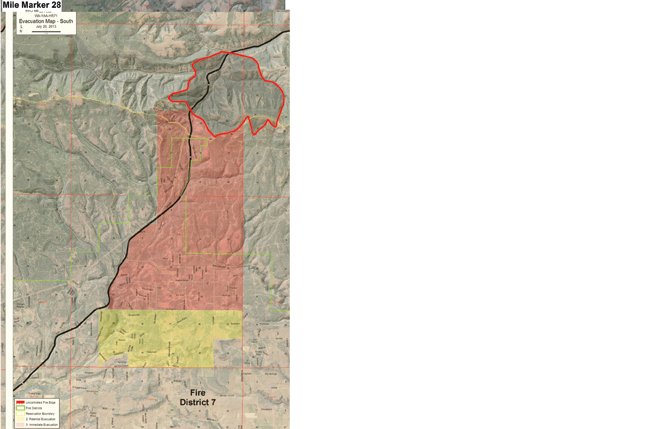 The Mile Marker 28 Fire remains largely uncontained, burning on more than 4,600 acres along High 97 15 miles northeast of Goldendale.
Almost three times that amount of land to the south of the main fire and mostly east of Highway 97 is under immediate evacuation. The evacuation area includes the towns of Bickleton and Cleveland. Another area is targeted for potential evacuation farther south.
The fire is burning in grass, timber, timber litter and shrubs, and has been actively spreading on all flanks, according to information Saturday morning. Steep topography makes a direct attack difficult. Erratic winds drove the fire toward the east and southeast, forcing evacuations of an additional 150 structures Friday evening, according to the Goldendale Sentinel, bringing the total structures evacuated to about 180. Fire crews disengaged from strengthening the line along the southern perimeter due to extreme fire activity. Suppression tactics took place during the night, when winds subsided and fire behavior became more easily seen.
Response to the blaze includes more than 800 personnel from 13 local, regional and federal agencies, and the American Red Cross. According to the Goldendale Sentinel, a community meeting is planned for Saturday, July 27, at 7 p.m., at the Klickitat PUD meeting room, 1313 Columbus in Goldendale. Fire officials and other agency representatives will update the public on the current fire situation and evacuation notices.
The fire started in the late morning of July 24. Cause is under investigation.
The Sunnyside Turnoff Fire on the Warm Springs Reservation largely in south Wasco County five saw minimal growth overnight and was 60 percent contained Saturday morning, July 27.
On July 26, containment lines were completed around the entire perimeter of the 48,916-acre fire. A Level 1 evacuation order was in effect in the Schoolie Flat area.
Those involved in fire response include the American Red Cross, Bureau of Land Management, Confederated Tribes of the Warm Springs, Jefferson County Sheriff, Juniper Flats Rural Fire Department, Maupin Fire Department and Wasco County.