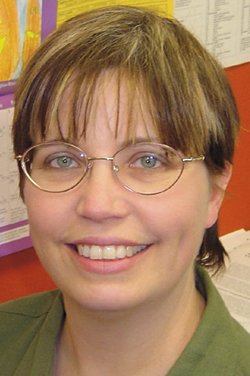 The Dalles — The Wasco County Fair is only three weeks away! For nearly all my life, the county fair has been a highlight of the summer. As a young child, the county fair was equated with my annual treat of cotton candy. As a 4-H member, fair meant a chance to exhibit my projects (hoping they were good enough to earn a purple ribbon — a rarity back then) and hang with friends.
During the post-4-H and pre-4-H leader years, my interest in the county fair expanded to include the vendors and displays. Then, during my 4-H leader years, the 4-H building and barns once again took precedence over anything else the county fair had to offer.
In all my years of attending fairs, there is one activity that has remained a constant: visiting the animals in the barns! In fact, visiting with 4-H members in the goat barn is what led to getting my first dairy goats when my girls were little. I suppose I could also "blame" the county fair for the continued growth of our small farm's animal population since my love of the barns rubbed off on my daughters, leading to the acquirement of sheep, ducks, chickens, rabbits, more dogs, and horses. What a life!
As the leader of the Wasco County 4-H Youth Development program, I get to experience the county fair from a whole different angle, and I still look forward to its yearly arrival. There is so much to do and see, and barns full of animals!
It is my desire for you to fully enjoy the animals as I do while staying safe and healthy. Therefore, I would like to share some "stay healthy" guidelines with you.
• Some animal diseases and illnesses can be transferred between animals and humans, therefore, we ask that you not bring open containers of food or drink into the barns and for the safety of your small children, please leave pacifiers, bottles and strollers outside. Also, please remember to wash hands upon leaving the barn.

• Swine and humans are particularly able to share viruses back and forth and each time this happens, the virus mutates and can become a problem for swine and/or humans. Therefore, in order to keep you and our pigs healthy, we have special requests: please do not enter the swine barn if you have had a fever in the previous 48 hours and wash your hands before entering and upon leaving the swine barn.
• Some illnesses can be transferred between animal species, so we would like to ask you to help us keep all our animals healthy and wash your hands between barns.
• Always remember to wash your hands before handling food and eating while at the fair.
Are you seeing a common theme? If you answered yes, hand washing, then you would be correct. To expedite the hand washing process, we have waterless hand sanitizer dispensers inside and outside each door in every barn and two water-fed hand washing stations.

We do our best to ensure our animals are healthy before and during the fair; however, as is true with humans, they do not always show signs of illness. Therefore your help is needed to keep everybody healthy.
Quick reminder: those particularly susceptible to illness include pregnant women, children under the age of 5 and adults over 65, and anyone with medical conditions including asthma, diabetes, heart disease, weakened immune systems or neurological or neurodevelopmental conditions.

On behalf of all Wasco County 4-H members, we invite you to visit us, the 4-H building featuring our projects, and all our animal barns. Mark your calendar for Aug. 15-18 and take the scenic drive down Highway 197 to Tygh Valley. See you there!
For more information contact Lynette Black, 4-H Youth Development Faculty for the OSU Extension Service, Wasco County at 541-296-5494 or lynette.black@oregonstate.edu.