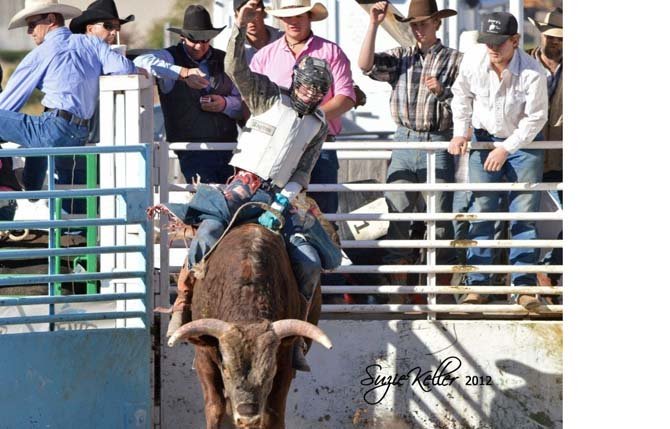 The Dalles — When times get tough, and he has dealt with some tough times, 2008 The Dalles Wahtonka graduate and standout bull rider, Ronnie Webber, thinks of his favorite song performed by the Sidewalk Prophets.
Some of the lyrics go, "Live strong in the Lord; don't live your life in fear. God has his hands on you."
He holds those words true to his heart, as his Lord and Savior Jesus Christ is the beacon of light leading him through this maze called rodeo life.
"You have to keep faith in Him," Webber said. "He has got a purpose for your life no matter what. You cannot live your life in fear because He has his hands over you. There is nothing more powerful than God, so there is no reason to fear failure or anything. As long as you are keeping on keeping on, you are succeeding in whatever you do."
Success has come at a rapid rate for Webber this rodeo season, with three bull-riding wins out of five events so far.
Last weekend at the 48th annual Fort Dalles Days "Rough and Wild" Rodeo at Milt Tumilson Arena, Webber eclipsed the eight-second mark for a score of 78 to vault into first place on the final day of bull riding events.
For his efforts, Webber received a check for $1,900 and some shiny new hardware.
Webber had previously wanted to enter rodeo action in The Dalles, but for some reason, the stars did not align.
With his father Ron, and his stepmother Julie along with several other family members and his girlfriend in attendance, Webber hopped aboard Ryan's Jacket and turned in one of his better performances.
"It was a thrill to do it for my hometown and give it some pride," Webber said. "I hear different people talking about it now, so it is cool to give them something to talk about. I sure am glad I finally got over there and did well."
Heading into his run, Webber went through the customary rounds of greeting fellow cowboys and the like.
Each of the participants huddled in the waiting area under the announcer's booth before the start of the night for a prayer led by Ronnie Webber.
Once he finished, there was a certain aura surrounding Webber, he felt as though things would go well.
"I felt a sense of calm, that everything was going to turn out good," Webber said. "I went in with the mindset that I was going to give it my all. At the end of the day, my focus is to give glory to God in everything I do. No matter what happens, I am still going to give the glory to Him."
Webber did not take the conventional route into rodeo stardom, although he admitted that there were plenty of hours spent watching televised Professional Bull Riders events with his grandfather.
He did, however have a cousin named Wylie Peterson in his family who was a former PBR champion.
Even so, rodeo activities finally pique his interests while at Rodeo Bible Camp. Webber straddled his first bull and he was hooked from there.
While at TDW, now retired bull rider and friend, William Sockoff, encouraged Webber to start riding bulls.
The rest is history.
"My parents didn't agree with it because it scared them," Webber said. "But they supported it because it was something I wanted to do. They are still nervous about it, but they know that I am chasing my dreams."
Webber plans on riding for another decade or so, given health and other elements.
He does not want to get ahead of himself, but he will ride until the adrenaline rush is no longer there.
"The minute it is not fun for me anymore, is the minute I will stop riding," Webber said. "If you are not having fun, it can be very dangerous and you can get hurt. You don't want that at all."
So what does it take to successfully dominate a bull?
Riding, Webber said, is about having a clear head with no negative thoughts swirling around. A cowboy cannot put the horse before the cart and get overzealous with ultra positives either.
Once the gates fly open, Webber compared a bull ride to a rough and rugged two-step on the dance floor.
"It is muscle memory. There is no time to think," Webber said. "You get a feel for them and kind of flow with the direction they move. It is kind of like dancing. You keep on a rhythm with the bull and get the timing down. It is a partnership out there and you try to make everything work. Only thing is, you have a 1,600 or 1,700-pound animal that doesn't necessarily want you on its back."
Notching three wins in a rodeo season is to some a career or a good two-year stint.
Webber considers himself lucky to have family support, sponsorship support and a community of cowboys and cowgirls that are like a second family.
Some athletes need that circle of trust because a rodeo life can be unforgiving and unrelenting.
"It takes a lot of grit to live it and keep in that mindset through motivation to accomplish a lot in rodeo," Webber said. "The rodeo life gets pretty rowdy if you let it. You do go through some tough times, but you have to get back on the bull and keep on riding. God will take of the rest."