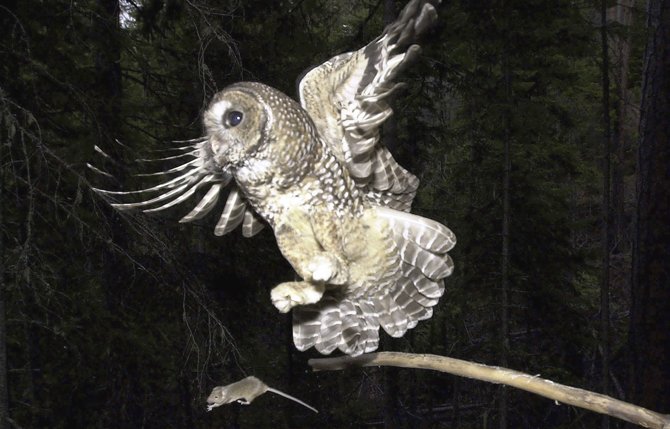 Federal wildlife officials are back at the scrimmage line with a Hail Mary play they hope will provide added life support to the perennially struggling Northern spotted owl.
It's too bad another species of owl must lose its life in the process: Authorities are proposing to shoot or remove more than 3,600 barred owls from four test areas of California, Oregon and Washington forests.
The more successful barred owls — larger, less picky about their food and more aggressive — have taken over much of the spotted owl's territory.
That territory used to be prime timber harvest land until the Endangered Species Act, which protects the spotted owl, forced the government to shut down 90 percent of logging on federal lands in the Pacific Northwest.
Unfortunately, these huge economic sacrifices, which essentially transformed many thriving Northwest timber towns into near ghost towns, just weren't enough for the spotted owl.
Some environmental advocates see the spotted owl as the proverbial canary in the coal mine, a delicate indicator species whose success or failure is an indicator for the success or failure of the forest ecosystems themselves.
Well, apparently not.
Even forests protected specifically to benefit the spotted owl aren't enough to assure its survival. Now this natural rival is threatening this weaker link.
At this juncture, rather than launching into the next extreme measure designed to save this one tenuous species, nature and the American people might be better served by a pause to consider exactly what the Endangered Species Act is meant to do.
Certainly, it is meant to protect native species from the awesome destructive power that human beings wield upon the Earth.
But is it meant to protect one feeble species from its stronger cousin? Isn't that the very substance upon which the principle of natural selection is based? Animal populations with better survival skills go on to breed and populate more successfully while those with poorer survival skills die out.
That said, our own front yard provides an illustration of how wildlife managers have set a precedent for favoring one species over another.
The Northern pikeminnow fishing bounty program is designed to thin the ranks of the voracious fish, which feed on the smolt of the threatened salmon and steelhead. In other words, the program kills a thriving species to benefit a less successful one.
But where salmon are concerned, there are other factors in play that have less to do with species survival than economic survival.
Salmon and steelhead are prized in both sport and commercial fishing. Their harvest contributes to the economic wellbeing and those purely human factors also motivated the pikeminnow program.
The spotted owl offers no such economic benefit. A bounty program on barred owls is merely tinkering with the natural order.
Perhaps it is time for wholesale re-examination of the 1994 Northwest Forest Plan, if the species upon which it was predicated is so unsuccessful despite heroic efforts in its favor.
Returning to the days of massive clearcuts isn't a desirable outcome either, but if we throw the spotted owl out of the equation, there might be room for a reasonable compromise.
From a rural perspective, that compromise would need to include not only protections to ensure healthy forests, but also a timber harvest to help ensure healthy communities.
Mid-Columbia counties have suffered greatly under the strictures in place to protect the Northern spotted owl. The ability of our own county government to provide the most basic of services has been tremendously compromised, as has the ability of local families to find jobs with a stable, living wage.
Congress' Northwest delegation has worked doggedly to pass bills that would allow reasonable timber harvests for salvage, wildfire thinning or forest health with only minimal success.
Throw out the false spotted owl premise and we can begin to rethink the meaning of forest health.