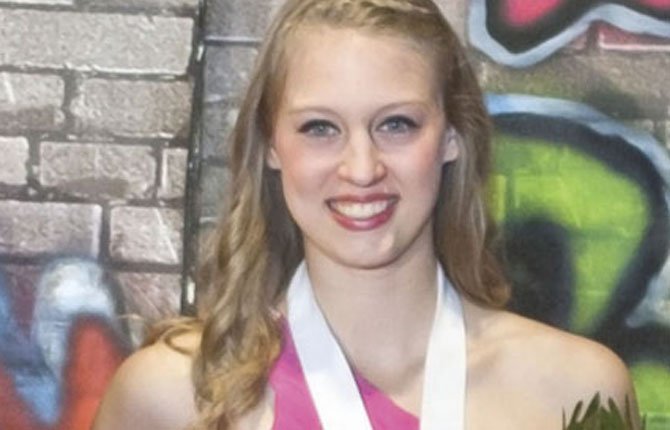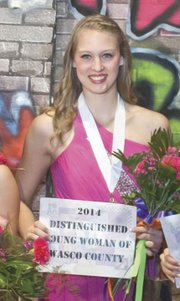 When Hannah Hinshaw saw fellow gymnast Allison Kortge win the local Junior Miss title in 2010 by showing off her skills on the balance beam, she thought "I can do that."
The title of the scholarship program has been changed to Distinguished Young Women, but Hinshaw still won the top title this year, using a beam routine for the talent portion of the competition. She is currently in Salem for the state competition.
"Ever since I was little I would go to Junior Miss … to be honest I really want to win," Hinshaw said before she left.
She said one difference between the state competition and the local one is that she learned the dance routines and practiced for the competition with her friends. This time she won't know any of the competitors. She said she was a little bit nervous about that, but "once I'm there I'm sure I'll be fine."
Hinshaw said she is looking forward to making some new friends. There will be nine other girls from around the state competing for the opportunity to go to the national competition next summer.
In June the national winner for this year was crowned. The winner, Nicole Renard of Kennewick, Washington, has local ties—her grandparents Scott and Dianna Mengis live in The Dalles and her uncle Jeff Renard also lives in the area. Nicole won a total of $37,000 in scholarship money through her participation in Distinguished Young Women.
Hinshaw has already won $5,000 at the local level and said she hopes to gain more scholarship money as she goes along. The 17-year-old, who will be a senior at The Dalles Wahtonka High School in the fall, said she wants to study acting after she graduates.
"Hopefully Distinguished Young Women will help me get to college and get through it," she said.
Hinshaw said local board members and past winners have been helping her prepare for the state level by giving advice and helping her practice for the interview round. She said she has made a few changes to her balance beam routine to try to make it a little bit flashier and more entertaining.
Friends from high school, friends from Riverside Gymnastics, and family members all plan to travel to Salem to cheer Hinshaw on.
"I've had a lot of support from The Dalles," she said.
One thing that is important to Hinshaw is that she stays true to herself as she participates in the different rounds of the scholarship competition.
"I want to show everyone who I am and hopefully that will help me at state," she said. "I wanted to make sure I was real and not fake and I was happy when I won that way.
Hinshaw said even if she doesn't progress past the state level the experience of participating in the competition has been worth it.
"Any girls out there who are thinking about, please do it," she said. "It gives you so much confidence and so many friends. It's a great way to make friends and have fun."