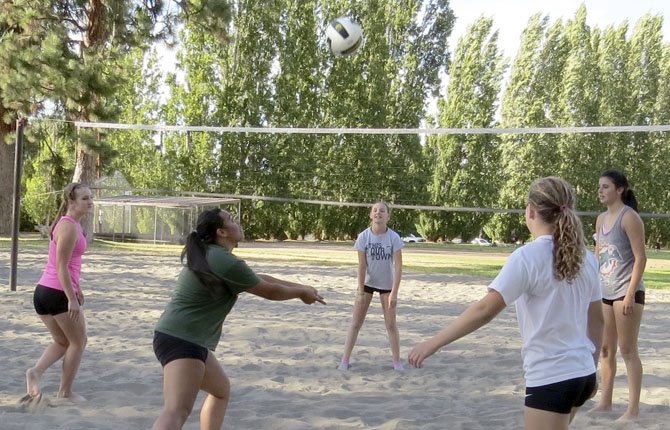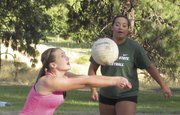 Getting sand between your toes doesn't always require a beach, and that's just what the Cherry City Juniors traveling volleyball team was doing Monday night, July 29, at Sorosis Park.
Team members were honing their skills on the sand in anticipation of the upcoming 32nd annual Seaside Beach Volleyball Tournament coming up Aug. 9-11.
The event is the largest amateur beach volleyball tournament in the world. In 2012, it drew almost 1,300 teams, playing on more than 100 courts.
"The whole beach is nothing but volleyball," said coach Tim Logue. "It's a big deal."
Some of the girls have been attending (though not participating) since infancy, said one parent.
The Cherry City Juniors travel all winter with two age bracket teams encompasing ages 12 to 16. In the winter, they play indoors, so the sand brings some special challenges.
"Sand requires a lot more speed and [ball] control," Logue said.
"Typically on sand you have less players, so it physically requires a lot more."
The players have a lot of court to cover, so ball control, good passes and good sets are critical.
Players will be competing in different kinds of competitions and different age brackets during the tournament, including doubles play and four-on-four competition.
Teams in the Seaside tournament travel from as far as the East Coast, Hawaii and Canada.
"Our tournament is mentioned by many AVP [Association of Volleyball Professionals] players as 'the one to go to,'" the event website reports.
Divisions range from parent and child to masters age 55 and older, along with men, women and co-ed open divisions that feature current and retired AVP-ranked players.