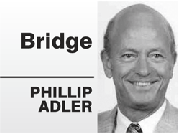 Baroness Edith Clara Summerskill, who was a Labour Party member of British Parliament from 1938 to 1961, said, "Nagging is the repetition of unpalatable truths."
That does not apply to nagging in bridge classes, where the teacher is repeating truths about the game. Look at the South hand in today's diagram.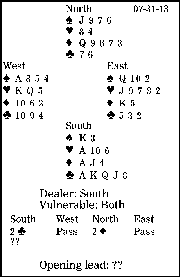 With 22 points, a great five-card suit and all of those prime cards, it easily qualifies for a two-club opening bid. But after North responds two diamonds, the negative response usually made with 0-7 points, what should South rebid?
While you are thinking about that, suppose South ends in three no-trump. What happens after West leads either the spade four or the heart king?
A basic rule of bidding at the game-level is to aim for no-trump, not for a minor. When this deal was played, South rebid three clubs instead of two no-trump — a bad error. It got worse when North passed out three clubs, a forcing bid!
Over two no-trump, North would have used Stayman to try to find a 4-4 spade fit before settling into three no-trump.
It would be normal for West to lead the spade four. South captures East's 10 with his king, cashes the diamond ace, and continues with the diamond jack. Here, East has to win and can do no better than to cash his spade queen and play another spade to hold declarer to 10 tricks.
However, if West is psychic, he will lead the heart king. Then South cannot make his contract. Declarer would rue the lack of the club 10 on the board as an entry for the diamond finesse.