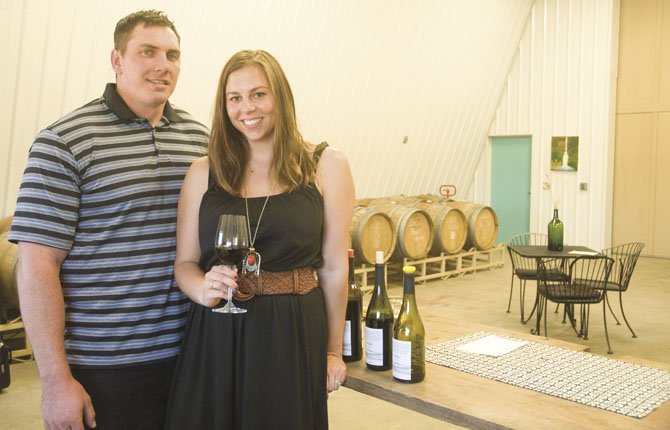 Lacey and Colter Bolton are now welcoming guests for tastings at the new 15 Mile Winery.
Located in the Dufur Valley alongside Fifteenmile Creek, the winery is set on Bolton Road a short drive from Boyd surrounded by orchards and pastures.
"Colter is the winemaker," said Lacey. "He has been working as a winemaker in the [Willamette] Valley. This is his sixth year — his seventh harvest."
Colter is the assistant winemaker at Chateau Bianca in Dallas, another family-owned operation.
"They have taught me a lot," he said, particularly about the practical side of winemaking.
He also spent a year in Australia learning more about warm weather wine varieties.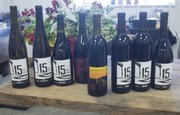 Lacey and Colter are the second generation of wine producers in the family. Colter's parents, Dan and Mercedes Bolton, started Bolton Cellars some years ago and Colter is carrying on the Bolton label, selling their High Tension (a blend of syrah, barbera and merlot) and Theristem (a blend of merlot and pinot noir). But they also plan to make their own mark under the 15 Mile label.
True to Colter's valley training, 15 Mile will offer a pinot noir. They'll also offer a merlot and a couple more big-bodied reds, including a syrah and a barbera.
"The pinots are the oldest planting," Colter said. The vines are 21 years old.
A dry and semi-sweet gewürztraminer are also part of the plan.
The whites come from grapes grown in higher elevations in Washington, but all the wines come from estate-grown grapes.
"We'll also be offering a sparkling wine in the spring," Lacey said. "That's pretty new for our area. It's made with the traditional Champagne method. It's pinot noir-based."
The Boltons take a traditional approach to how they produce and handle single varietals.
"But as far as the blends go, we would like to do new blends," Colter said. "It's a lot of fun."
The tasting room is also the 15 Mile Winery production room, with barrels of aging wine sitting right next to the bistro-style tables in the light and airy space.
Evidence of the Bolton farm's long history is easily visible. The tasting room itself is the farm's former machine shop. Outside the entrance is Colter's grandfather's vintage orange tractor, while inside visitors will belly up to another piece of history.
"The tasting room bar, right now, is a giant plank of wood that was used by Colter's relatives as a table when they had reunions," Lacey said.
The Bolton farm was homesteaded on the northeast edge of the Dufur Valley in 1858 by Absolom Bolton. The family is in its fifth generation on the land.
Colter and Lacey have been hard at work putting their own stamp on the family farm, renovating the tasting room and making a new generation of wine.
"I think our grand vision will always be a bit industrial and all about the wine," Colter said.
The Boltons plan to expand the outdoor patio for more sitting space around the outdoor oven where a whole pig was roasted during opening weekend. They also want to create a picnic area along the bank of Fifteenmile Creek where visitors can enjoy a picnic and catch glimpses of the wild turkeys, deer and other wildlife that are plentiful in the area.
"I've always wanted to do something with the family farm," Colter said. "It's been in the family for 150 years. Winemaking is a way to carry on the Bolton farm."
It's also an appealing combination of science, art and craft.
"That's what's driven it for me," he said. "And I like working with my hands. It's definitely not a 9 to 5 job, but we're up for the challenge."
Colter and Lacey have already begun making their own history on the venerable farmstead. They both grew up locally and have been together since the freshman year of high school.
The want visitors to enjoy the relaxed atmosphere at the winery.
"We don't want people to be too hung up on what they have to know," Colter said, "just drink what they like and enjoy."
Once they've put a few more finishing touches on the tasting room and its grounds, the Boltons are planning to host a grand opening celebration this coming spring.
The 15 Mile Winery Tasting Room is located at 66501 Bolton Road, Dufur. Coming from The Dalles, take a left on the Boyd exit, then another left at Boyd onto Bolton Road and follow the road to its end. The winery is open Saturdays and Sundays from 11 a.m. until 5 p.m. It can be reached by phone at 541-965-1445 or by email at info@15milewinery.com.
The Boltons have also formed a wine club. Information is available on their Facebook page at "15 Mile Winery."