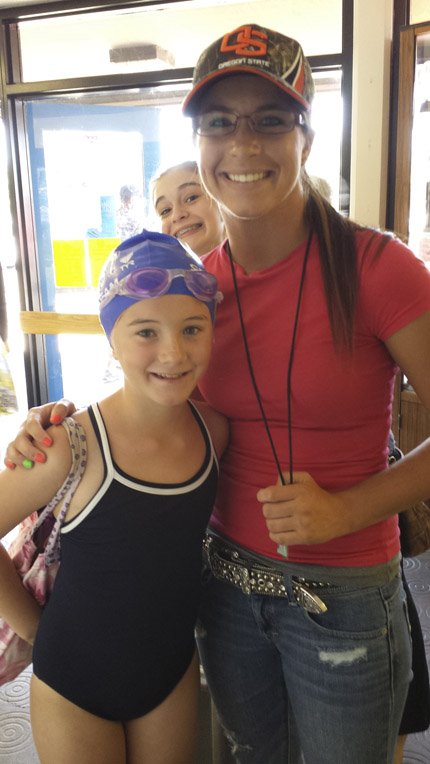 As The Dalles Swim Team focuses a little less on competition and a little more on learning and having fun, it is seeing its numbers climb.
Over 60 swimmers are on the team, up from the 50 it has had in recent years, and it is wrapping up its season with a meet Aug. 9 in Bend.
Swimmers saw significant drops in time at the Pendleton meet in early July, and the team also had a few team mini-meets at home, with just the team members swimming.
In a season highlight, eight-year-old Lucy Booth placed 12th in the state in the 50-meter freestyle at the 12-and-under long course meet in Albany. Her time of 42.31 seconds was nearly two seconds faster than her qualifying time of 44.15, and also stands as the third fastest time ever swum by an eight and under girl on The Dalles Swim Team.
Her reaction, she said, at seeing how much time she cut off was "wow!"
Perhaps more impressive is that freestyle isn't even her favorite stroke — the backstroke is.
The Albany pool is a smallish venue, which creates a crowded swim deck environment.
"A lot of teams in Oregon were there so there were a lot of people," Lucy said. "I was really scared. I was the only one there on my team, so it felt kind of weird not having everyone with me."
She was also excited to make her qualifying time to get to state.
"I've done it actually a ton of times and never actually made it, so it was a big deal when I made it," she said.
She practices with older kids, some of whom are four years her senior. She plans to keep swimming, and said her other favorite thing to do is horseback riding.
Her mom, Kristen Booth, said the state meet "was a good experience." She was grateful assistant coach Katelyn Bailey came to the meet also.
"We were really impressed with her," Bailey said. "She got her qualifying time at Pendleton." Booth also racked up the most points for the team at that meet, held in early July.
The swim team chose not to host its annual Ted Walker Invitational this year, because both the swim team board and the coaching staff are new, and they all felt they weren't up to pulling the event off this year, said Angela Johnston, who is in her first year as head coach of the team.
The coaching staff was still working on getting its certifications in place and "It was so late in the year for planning that we wouldn't have had all the resources we would've wanted to do the meet, because it also would've fallen on rodeo weekend. We wouldn't have had the parent support," Johnston said.
Typically, meets are planned a year in advance, and they have already tentatively scheduled the Ted Walker meet for next year.
"Our goal is June 27-29," Johnston said.
Canceling the meet "was a tough call. It was a hard call, but at the same time, we knew this was how it should go," she said.
The board didn't want to risk having a poorly-run meet, because families won't return to meets if they've had a bad experience, she said.
"We'd rather cancel it and next year have a very successful year," she said.
Summer swim championships are held in 50-meter pools, and qualifying times need to be made in 50-meter venues.
The Ted Walker meet will be held just before the district meet, giving swimmers a chance to make qualifying times.
Johnston said the shift to a less competition-focused team was a welcome move. The team still has highly competitive swimmers, she noted, "but it's where the swimmer's that way, and it's not the parent, per se. And that's great, if a swimmer has that much enthusiasm for swimming, I'll go with it."
Johnston, who swam with The Dalles Swim Team herself for 12-plus years, said, "Swim team is all about fun… My first coach was Scott Roy and I try to take his philosophy of, swim team is all about having fun. He said, 'You're here to have fun.'
"Yeah, he liked to compete, but that wasn't his driving goal for us."
She felt a "sense of fun has been lost" with the team in recent years, and she felt it was reflected in dropping turnout for the team.
And while competition may be less of a focus, it still provides the backdrop for measuring how a swimmer is progressing.
The Pendleton meet was a big one for several swimmers. Bree Webber, for example, cut a combined total of three minutes off her times in five events. "It was a good meet for her," Bailey said of the 11-year-old.
Also registering impressive drops in their times, Johnston said, were Andy Clifford, Hannah Weeks, Lydia Evans, Ben Waters, Peter Cardosi and Lauren Weeks.
"Lauren Thalhofer and Anna Daggett swam the 1500 for the first time and both swam it in under 24 minutes. That's 40 laps, just for comparison there," Bailey said.
Johnston added, "We as coaches were very, very impressed with how the swimmers did at this meet. Especially considering it was 95-plus degrees both days and it was a long meet. The swimmers handled the situation very well and showed us coaches and all the spectators what The Dalles Swim Team is really made of."
Thalhofer and Allie Wood are also helping coach the younger kids on the team.