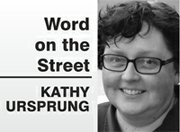 The Dalles — I hated every minute of training, but I said, 'Don't quit. Suffer now and live the rest of your life as a champion. — Muhammad Ali
Training, part one: Even if you've been working in your field close to 30 years, like I have, taking a class now and then can be a valuable experience. A few of the things classes can do include:
• provide updates on best practices,
• offer new strategies on an old subject,
• connect you with people having like interests,
• polish skills that may have become a little rusty,
• help revive the enthusiasm that got you into your business in the first place.
With all that potential in mind, August in the gorge offers a number of opportunities to do those things:
Marketplace Readiness Workshop Series: Fledgling food entrepreneurs can receive start-up help by participating in the Marketplace Readiness workshop series offered Aug. 12-14 from 1 to 5 p.m.
The series is collaboratively hosted by OSU Extension, Gorge Grown Food Network and Columbia Gorge Community College.
Classes are designed to help new food business entrepreneurs work to launch a local food product. A few of the topics: pricing, labeling requirements, food safety, rules and regulations, and developing a strong brand. Information about the agenda, registration and workshop costs can be found online at www.gorgegrown.com or call 541-490-6420.
Better Communication: Catalyst in Hood River is offering Tips for Effective Communication Aug. 13, from 9 a.m. to noon, at their offices at 202 Oak St., Suite 100, in Hood River.
Participants will learn some of the psychology behind communication and walk away with tips for improving their communication skills with prospects, customers, employees and business partners. Topics include: the two-way process of communication, use of non-verbals, sensitivity to your and others' filters, and focus on the desired results. A second session is planned for March 4.
Register online: http://bit.ly/19x8XHD.
Health Care Reform: BCI Group, Inc., a local benefits broker is hosting a series of health care reform educational events. Classes are free and open to all, though space is limited. RSVP to Karissa@bcigroup.com or 541-386-1494.
Sections are scheduled on each date in Hood River from 10 to 11:30 a.m. at Columbia Gorge Community College, Second Floor, Room 301, and from 1 to 2:30 p.m. at Columbia Gorge Community College Building 1, Third Floor, Room 1.354.
Topics include:
Aug. 7 - ACA Basics, cost implications of the Affordable Care Act,
Aug. 21 - Cover Oregon for Small Groups,
Sept. 4 - Cover Oregon for Individuals,
Sept. 18 - ACA Basics, top five considerations from four viewpoints.
n
Dogs for Doernbecher: Rivermark Community Credit Unions, including the one in The Dalles (but excluding Maupin) are hosting their 12th annual Dogs for Doernbecher fundraiser Friday, Aug. 2, from 11:30 a.m. to 2 p.m.
All items donated and 100 percent of the proceeds benefit Doernbecher Children's Hospital.
The menu includes chips, cookie and soda or water. A single dog meal is $4, a double dog meal is $6. For a zero-calorie meal, make a donation online at www.rivermarkcu.org/dogs_for_doernbecher.html.
A shrewd business move: Sixty years ago, this coming Saturday, Aug. 3, the City of The Dalles and Wasco County made a business agreement to team up in operating the Fort Dalles Museum. As a result, The Dalles has protected a fascinating piece of our Wild West history, the old Fort Dalles surgeon's quarters, which now houses an eclectic collection of remnants from The Dalles' and Wasco County's past. The Anderson Homestead and the vehicle barn all add to the treasure.
The volunteers at Fort Dalles help make the museum a lively, friendly place worthy of repeat visits.
The museum will be celebrating this 60-year pact later in August as part of the Forth Sunday at Fort Dalles concert Aug. 25.
Early-morning networking: The Dalles Area Chamber of Commerce takes the early bird-worm connection seriously and offers regular opportunities for breakfast networking.
It's not too late to register for the Friday, Aug. 2, Power Breakfast. Lisa and Cal from the chamber will be sharing about how the chamber can help businesses through membership. Breakfast is in Columbia Gorge Community College, Building 2, third floor lecture room. RSVP at the chamber no later than 3 p.m., Thursday, Aug. 1, by calling 541-296-2231.
No registration required for the Government Affairs meeting every Thursday from 7 to 8 a.m. at The Barbecue. This week is an opportunity for everyone to share updates. Future presenters include: Rep. John Huffman, Aug. 8; and Lem Pratt, Washington State Parks, Aug. 15.