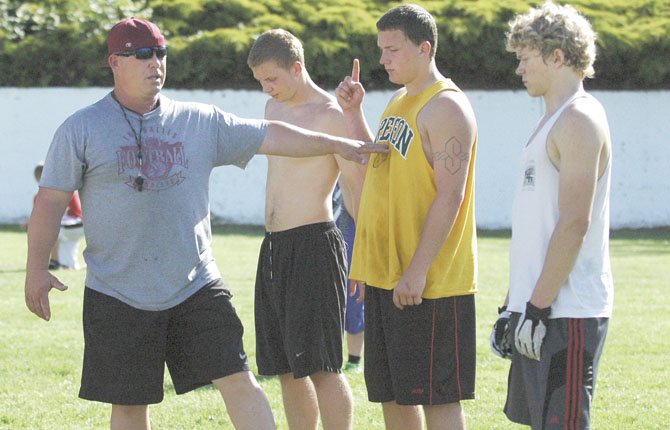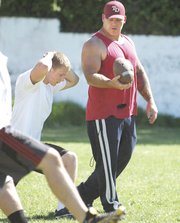 At long last, Steve Sugg is back where he belongs – on the football field as the new varsity head coach of The Dalles Wahtonka Eagle Indians.
Sugg, a Hall of Fame baseball skipper, will bring his years of playing and coaching experience to the sidelines with hopes of turning around a football program that has won a combined two games in the past two years.
He is embracing this new journey with zest and zeal.
"I am excited. I have been out of coaching for a few years, so my battery is recharged, per say," Sugg said. "I am looking forward to the challenge. It is important to build a solid foundation for a strong football program for many years to come."
Sugg graduated from The Dalles High School in 1985 and enjoyed a successful athletic career.
On the gridiron, he was a four-year letter winner and added all-league medals to his record as a junior and senior, coming close to playoff berths in his final two campaigns.
From The Dalles, Sugg attended Linfield College in McMinnville, playing a high level of football and baseball until graduation in 1990.
He was a head football coach and head baseball coach in The Dalles in the 90s and early 2000s, won a Tri-Valley Conference title as a football coach and was named Coach of the Year.
TDW athletic director Kyle Rosselle opened up the position in January and had a pool of applicants. After a committee sifted through a large pool of applicants and conducted interviews, a decision was made to hire Sugg in late May.
"Coach Sugg has an extensive resume, both as a coach and as an athlete," Rosselle said. "He has a network with other coaches across the state and he has a lot of connections within the community. His ability to grow a program and foster success is what stuck out most in his interview."
While on the sidelines, Sugg has plans to run a fast-paced offense with spread formation looks, a big change from the fly offense run for the past few seasons.
"With the type of personnel that we have, I think it would be better for us to spread things out," Sugg said. "We have quite a few good-skill kids, so we need to take advantage of that. We are going to be a no-huddle, up-tempo and aggressive offense. We are going to take the same mentality defensively. We are going to be real aggressive and get after people."
In building an aggressive defense, Sugg made a call to select Rich Belanger to the post of defensive coordinator.
The 1983 Waitsburg, Wash., High School graduate has an impressive football pedigree as well with experience in high school, at a four-year university and at the Arena League football level.
He will work extensively with long-time coach Andrew Savaiinaea in building a tough, hard-nosed defense that opposing teams are afraid to play against.
"I want people to come in with the mentality that when they play us, they need to bring their 'A' game," Belanger said. "There is no doubt about it, you got to be tough and disciplined to play the style of defense that I want to play. There is a fine line between being aggressive and overly-aggressive and I like to push the envelope a little bit."
Belanger said there are three-to-four defensive packages he plans to implement for the season, from four-man fronts, cover-2 sets and blitz formations.
He will get a better gauge at the strong and weak points, once he gets a better feel for his personnel.
One player who is ready to bring his lunch pail to work every day is all-league linebacker Riley Bardes.
As a sophomore, he was third on the squad with 33 tackles, six of them going for a loss. He also had two sacks and a fumble recovery.
"I am extremely excited. I cannot wait to get on the field and punish some people," Bardes said. "It is great knowing that all of our coaches and all of us are out here as a family and a football team ready to compete at a higher level than we ever have. We just have to work extremely hard and be ready to bust some people in the mouth."
In changing the scope and presenting a different outcome for the future, incoming senior Blake Diede said the team has bonded through adversity, and that cohesiveness has lent itself to profitable lift sessions. It involves much more than just wins and losses and statistics. That's where the offseason stuff comes into play.
"It is invaluable to get an early jump to our season with offseason workouts," Diede said. "We are going to have a distinct lead on the competition, especially those in our division. These are the days that are really going to count."
With that knowledge of tackling the fundamental process of athletics, it starts with baseball players using swing repetitions to hone on lacing line drives. On the football field, there is an emphasis placed on proper techniques and reads.
This is going to be fun. The team will get better and better as the year goes on," said incoming senior Chaise Shroll. "This year, our seniors have added another year in the weight room, working hard, and plus the coaching staff will help us out a lot as well. It all comes down to the players showing commitment right now in the summertime that will create a winning program."
An important element in making sure everyone is on the same page, some of the ideals and philosophies will be carried out across the TD football landscape, from youth league through middle school on to high school.
"What we want to do is make sure that the high school, middle school and youth programs are all working as one," Sugg said. "We want to make sure that we are teaching the same basic fundamentals and basic terminology at all of those levels, so that when we get those kids up here at the high school, they have already heard it, they have already learned it and it will make the program take off that much better."
While the season is short in some regards, many of the hours logged in workouts are a lifeline toward the regular season and aspirations of a state playoff berth.
Whether it comes down to rehashing the fundamentals or continuing the offseason training, Sugg is mindful of what it is going to take.
"Winning breeds success," he said. "More importantly than that, it is getting kids to just believe in themselves, getting them to buy in to what the coaching staff is teaching them and that will translate into success. By teaching them hard work, discipline, fundamentals, how to handle adversity, those are the things that will help them down the road in life."
The team will practice again at 4 p.m. Monday at Wahtonka.