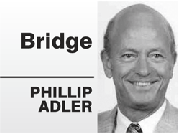 Mark Twain said, "Do the right thing. It will gratify some people and astonish the rest."
At the bridge table, if you do the right thing, it might both gratify and astonish your partner!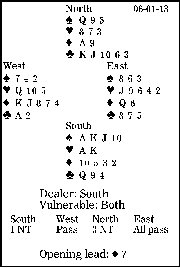 After a lot of columns about bidding opposite no-trump with major-suit hands, let's have a furlough and play in a no-trump contract.
South is in three no-trump. West leads his fourth-highest diamond, the seven. How should South plan the play?
As I have noted many times before, if North's five-card suit were a major, he would show it, planning to make it the trump suit when partner has at least three-card support. But since it is so unlikely that five clubs will make and three no-trump fail, responder should just go for the nine-trick game.
South has seven top tricks: four spades, two hearts and one diamond. There are more than enough supplementary winners available in clubs. But there is a danger that the opponents will get too many diamond tricks when in with the ace of clubs.
If the missing diamonds are breaking 4-3, there is no problem. But what if they are 5-2? Then surely East has honor-doubleton. With a suit headed by the king, queen and jack, West would have led the king, not the seven. And if East does have honor-doubleton, declarer must win the first trick with dummy's ace. This blocks the suit from the defenders' point of view. If East throws his queen under the ace, South's 10 wins the fourth round of the suit. And if East keeps his queen, the defenders cannot untie the suit.
Declarer then plays a club, raking in at least one overtrick.