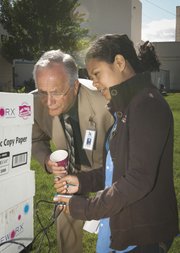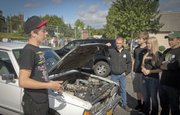 The Dalles — Who knew there were so many ways to generate power? From biodiesel to solar cookers to a salad spinner generator, the fruits of an educational experiment were on display during Project Endeavor's Research and Development Expo.
Students participating in the inaugural year of Project Endeavor, which teaches math and science at The Dalles Wahtonka High School through hands-on research projects, were allowed to pursue the subjects that interested them the most, and on Thursday they showed off their final projects to the community.
Not all of the presentations were about alternative energy. Students on the Living Systems track studied subjects like bees, salmon and lactose intolerance instead.
Bobby Labonte said his group was interested in what effect coal trains coming through the Columbia Gorge might have on the ecosystem of the river. They used daphnia — tiny but abundant creatures often used by scientists to measure the effects of toxins on an ecosystem — to check the difference between clean water and water with coal dust in it.
"Within three days all of the ones in the coal were dead and none of the ones in the regular water were," Labonte told a group of community members who came to the expo.
One of the more popular displays during the expo came from a group of four students who spent the year learning to make biodiesel from the used vegetable oil they have been collecting from local restaurants.
"We had to adjust the recipe until it worked," team member Sierra Renard said. "It was a learning process."
She said the group had to learn a lot of complex chemistry to understand the reactions that created the fuel and the right Ph balance and other conditions needed to make it usable and safe.
She said the feeling of accomplishment was "crazy" the first time they started up a truck and ran it using the fuel they had made. The students adjusted the truck to accommodate the fuel, and their mechanics teacher now uses it to pick up parts.
Fellow team members Timmy Tibbets, Jesse Schacht and Mitchell Waters seemed equally proud of their accomplishment and were eager to pop the hood on their truck and start it up for anyone who came by their display.
It takes about five hours for the group to make a large jug of biodiesel. Tibbets said they could make more if they used a bigger drum, but when they found someone willing to donate one they ran into restrictions.
"If it wasn't for the fire marshal we would have a huge one, but it turns out it would need a whole building to itself," he said.
The group even provided a project for another group during the first semester — they learned how to make soap from the glycerin that was a byproduct of the biofuel.
Another energy-related project came from Robin Ebel, Sabrina Mohr and Bianca Rogers. They reconstructed a hand-pumped salad spinner, which uses centrifugal force to separate water from lettuce leaves, to generate electricity when pumped.
"We were sitting in class one day with our legs just sort of twitching and I thought 'We should harness that," Mohr said.
Currently the project only generates about 3 watts of power, but the group plans to make improvements next year. They hope to create a device that can sit under a couch or chair and be used to power small devices by people with Restless Leg Syndrome or those who have a habit of jiggling their leg up and down in boredom or impatience.
Many student projects tried to tackle problems they saw in the world around them. One group did experiments with cans of water and beeswax in small models of classrooms, trying to see how the high school could harness thermal mass cooling to compensate for a lack of air-conditioning. Another partnership said they found out that Chenowith Elementary has the hottest classrooms in the district and wanted to do something about it, so they studied the effectiveness of using rolls of window film to keep out some of the sun's rays.
Project Endeavor, which is wrapping up its first school year, was offered to freshman and sophomore students. Instead of a traditional math class and science class full of worksheets and tests, students had a block of time in the mornings in which they spent a good portion of their time working in groups with teachers and volunteer mentors from the community to learn the math and science needed for the projects they chose.
The format, like traditional classes, seemed to produce varying qualities of projects.
Damion Morris, a freshman who built a solar powered car for his final group project, said he preferred the Project Endeavor format to the way he had learned in middle school. After rapidly explaining several pages' worth of physics calculations determining how fast and how far the car would go in various conditions, he said he learned more math this year than he would have in a traditional classroom.
"It's way better. I love it. Just doing this project, in two weeks we learned more math than we would have in two months at the middle school," he said.
His teammate Bryce Belanger agreed.
"We struggled at first because it was going so fast, but once we got used to it we learned way faster," he said. "It's going to be hard going back when we're juniors but at least we will be way ahead of everyone else."
Max McClennan, who worked with a group to use electrolysis to create hydrogen fuel, said he enjoyed the year but also saw room for improvement next year.
"It's a really cool concept but I thought it could use a little more organization," he said.
Brian Goodwin, director of special programs for the district, said the program had gone through a few "mutations" and would be tweaked more for the coming year, but overall Project Endeavor exceeded his expectations.
"The level of sophistication of thought from 14- to 16 year-olds I saw was incredible," he said.
He said next year Project Endeavor will offer a science credit and an elective credit, instead of science and math credit, with students taking traditional math classes outside of Project Endeavor. He said the students' projects took a deep look at certain kinds of math but staff felt that they couldn't cover every skill they were supposed to through projects. The elective credit for each student will depend on the focus of their projects.

Goodwin said the format wasn't a good fit for some students, who dropped out of the program near the beginning of the year because they didn't like working in groups or needed a more structured environment. But he said many kids — often ones who weren't the straight A types — learned more than they would have in other circumstances.

"We got kids with projects they were proud of, that they were excited about presenting," he said. "Did they learn every single math and science standard? Probably not, but were they all covered? Yes, and the things they learned will stick with them, probably forever."
He said in addition to academic benefits students also learned teamwork, brainstorming, meeting deadlines, pitching project ideas and other universal job skills.
Goodwin said earlier in the week students asked if they could stay after school for a "project party" to have more time to work on their projects and they "worked like the Dickens" until after 7 p.m. during a time of year when students have already more or less checked out for the summer. That kind of enthusiasm for learning is what Goodwin had hoped to inspire in students with Project Endeavor.
"Out of all of the things I do in my job this is the thing that gets me most excited to get out of bed in the morning," he said.