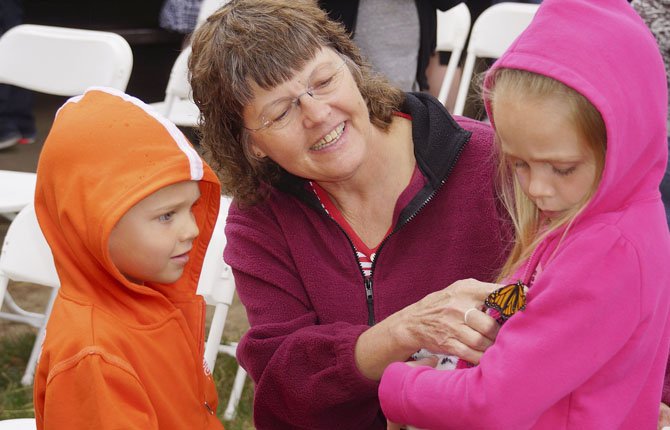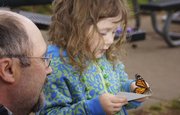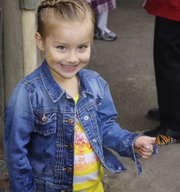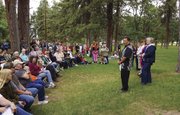 On Saturday, May 18, close to 200 local residents braved the cool and rainy spring weather to attend the fifth annual Heart of Hospice Butterfly Release to honor the loss of their loved ones.
For many of the participants, this was not their first butterfly release.
Several local care facilities bussed residents to the release.
Youth Heart of Hospice volunteers (YoHOHs) were on hand to face-paint children and pass out butterflies. The YoHOHs are teen volunteers from The Dalles High School.
"I'm always so amazed and grateful for these young people who donate their time on the weekend to help us with this event," said Heart of Hospice volunteer corodinator Jayne Maderios. "They are truly compassionate teens."
The Heart of Hospice staff solemnly read the names of the 150 patients who passed this year, then over 120 names of people and pets who attendees submitted to us. Afterward, there was time for people to speak the name of their loved ones aloud. This continued for a good five minutes.
A light drizzle started as organizers prepared to release the butterflies. This is always an anxious moment. "We never quite know how the butterflies are going to react," said Clyde Sanda, who helped officiate this event. "This year was especially wonderful though." Nearly 140 butterflies flittered into the air, followed by a collective "Oooohhh." The butterflies flew 10 to 15 feet and then must have realized that it was cool and wet, so they returned to their "people."
Many people were able to actually hold their butterflies.
One of this year's attendees was a very young girl who had just lost her puppy a couple of days ago. She was so excited to release a butterfly, knowing that it would someday join her puppy. For us at Heart of Hospice, this is also a very special event. We get to reconnect with many of the families we haven't seen in quite a while.
"One of the saddest aspects of hospice work," Sanda noted, "is that we get so close to our patients and their families while we're accompanying them on their journey. But once the patient passes, our bereavement team takes over and we often lose contact with the family. With 150 losses a year, almost three every week, we just don't have time to stay connected with everyone. But this event changes that. We get a chance to see them and discover how they're doing. It's a beautiful, heartfelt reunion for us and for them. There are always a lot of tears and hugs."
Another sad aspect of work for hospice workers is dealing with their own grief.
"At one point, almost every one of us had tears in our eyes. We can only imagine what hearing the name of their loved one does to our families emotionally," Sanda said. "That is what makes reading the names so important. In a way, we do feel their emotions."
One of our young hospice aides read the name of her grandfather who was in our care. And one of our chaplains read the name of her mother. None of us are immune from loss and grief.
We started the Butterfly Release five years ago to help bring healing to our community. But one of the true blessings of this event is that we've discovered that the community helps bring healing to us.