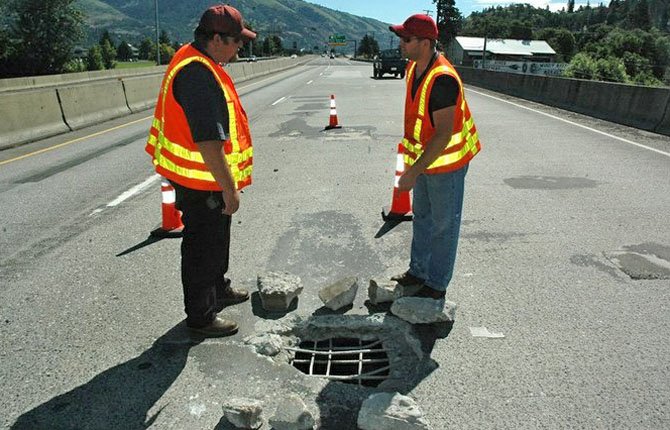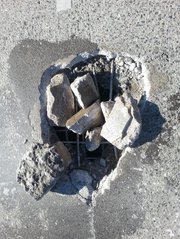 Hood River — The right lane of Interstate 84 eastbound between exits 63 and 64 , and the on-ramp to eastbound Interstate 84 from Second Street in Hood River will remain closed until Monday evening after a three-foot hole was found in the bridge decking.
The left lane eastbound will remain open and exit 64 will remain open.
The hole was created through erosion due to water wear and tear, according to a report from the Oregon Department of Transportation (ODOT).
"The micro-silica overlay delaminated, letting water erode the concrete deck," the report said. The bridge flexes when a vehicle travels over it, resulting in the delamination and contributing to continuing concrete damage.
The hole was discovered at about 10 a.m. Friday when a driver heard a "thunk" under his car, according to a Hood River News Report by Kirby Neumann-Rea. The man, whose name was not available at press time, found the hole in the middle of the right-hand lane. Coincidentally, he works as a bridge inspector under contract with ODOT.
According to ODOT worker Doug Gross, the man had no orange cones or other traffic diversion gear with him, but he called ODOT and began waving vehicles around the hole and moving out of the way the bread-loaf-sized pieces of pavement that were scattered on the freeway.
Within minutes, an ODOT crew arrived and cordoned the damage, which was located where the right-hand free lane merges with the exit 63 on-ramp.
Gross noted that it was fortunate the damage was found during daylight.
"It would have been really bad if a motorcycle had hit that in the dark," he said.
Bridge inspectors examined the bridge following the hole's discovery and did not find any structural deficiencies.
Maintenance crews widened the hole to remove already-damaged concrete around the edges of the hole, and then filled it with new concrete.
The lane will remain closed until Monday evening to allow the new concrete to set. Because of other lane closures, motorists should expect delays and congestion, and plan more travel time accordingly.
According to ODOT sources, the eastbound bridge carries about 13,500 vehicles every 24 hours.
The bridge was built in 1953 and has a sufficiency rating of 59.5. It is functionally obsolete because of lane width and the need for paint, but not structurally deficient, according to ODOT. In 1994, the bridge received a 6-inch concrete deck over the steel girders with a 1.5-inch micro-silica overlay. A major patch project was completed in October 2009.