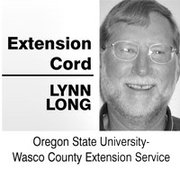 Every year in the late spring or early summer, the leaves and stems of many ornamental shrubs are attacked by small insects called scales.
Just last week someone brought a sample of a rhododendron branch into the OSU Master Gardener Plant Clinic that was infested with scale insects. It was obviously under stress from the damaging attack.
Azalea bark scale and Lecanium scale are particularly harmful to azalea and rhododendron shrubs, damaging the host plant by sucking juices from plant tissues.
Shrubs that become infested with scale insects lose their vitality, leaves become pale and drop off, and branches and sometimes entire plants are killed. Most typically, however, the entire plant will lose vigor and stop growing. This also leads to greater sensitivity to cold winter temperatures. Individual branches, or the entire plant can be killed by winter freezes that the shrub would normally survive.
Scales often escape attention because they don't look like insects. They usually look more like small specks of dirt on the surface of leaves or, more typically, on the branches and twigs of the shrub. Azalea bark scale have small, flat bodies and vary in color. These scales are small reddish insects that enclose themselves in white cottony sacs.
Lecanium scale, on the other hand, are about 0.125 inch in diameter and vary from red to dark brown in color. They are oval and raised, resembling small "helmets," "turtles, " or bumps on branches and stems, while the adult stage of the insect called crawlers, feed on the undersides of leaves.
Once scale insects have settled in place on the host plant, they don't move and are difficult to kill. Scales are best controlled in June or early July when the crawling insects are present.
Repeated spraying and thorough coverage of infected shrubs is recommended. Products such as Orthene and malathion are commonly used for control of scale insects. Be sure to follow all label directions for applying these sprays.
If you have questions about pests or unthrifty plants in your garden, the OSU Master Gardeners are available to answer your questions. Contact them Tuesday and Thursday afternoons from 1 to 4 by calling the OSU Extension office at 541-296-5494 or by visiting them Saturday mornings at the Fred Meyer nursery.