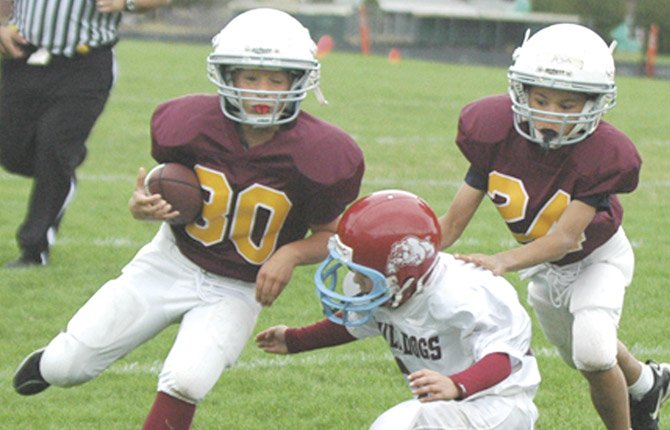 While emphasizing player participation and the development of football skills, The Dalles Youth Football League sprung into action looking to offer chances for boys and girls to develop the love of football from an early age.
However, over the past few years in the gorge, many boys and girls under six years old stood on the sidelines while their peers engaged in football activities.
This year, they will get the opportunity to toss the pigskin, run for touchdowns and spin and juke their opponents during summer flag football sessions.
The Dalles Youth Football organization has announced its return to flag football open for children in the first and second grades for play, tentatively for an August 2013 start.
Costs for early bird registration are $105 for tackle and $75 for a sibling in the same family.
In flag football, the costs are set at $40.
There may be another day of registration, but all athletes have until July 31 to sign up.
At the signup, parents need to furnish a birth certificate and a proof of insurance card.
The goal of the TDYF is to introduce young players to the game of football, assisting them with developing their athletic abilities and potential, while encouraging good sportsmanship and fun.
TDYF is a volunteer-based organization and counts on parents/guardians to assist with hosting games, running concessions, assisting with fundraising activities, and coaching teams.
Player registration dates will also include signups for volunteer opportunities and additional fundraisers for the season.
On Aug. 7-10, TDYF is kicking off its conditioning camp for all players, as they prepare for the first day of practice Aug. 12.
The season opening jamboree is set for Aug. 24 on Sid White Field and league games start Sept. 7.
For more information, interested parties can e-mail questions to tdyouthfootball@gmail.com.