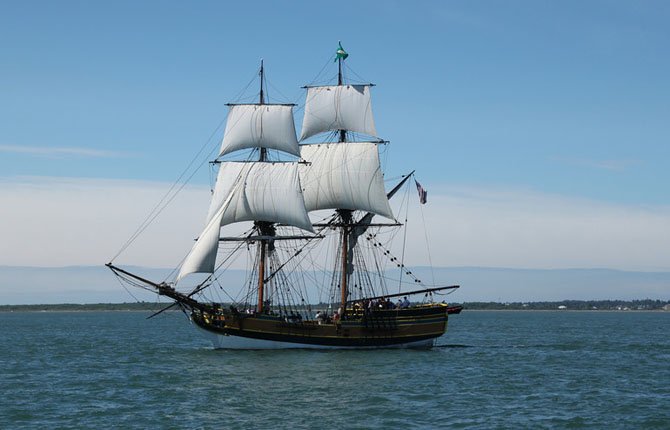 The brig Lady Washington, the Official Ship of Washington State, and the topsail ketch Hawaiian Chieftain, continue a seven-week tour of Columbia River ports this week with stops at The Dalles and Pasco. The ships will also make overnight stops at Arlington and Umatilla this week. The visit to The Dalles will include a sailing excursion in the evening.
The ships will dock in The Dalles on Tuesday, June 4 and dockside tours will be available for a donation of $3 or more from 4 to 5 p.m. According to historicalseaport.org, "Guests are free to explore at their own pace. Crew members in 18th century-style costume are glad to answer any questions you may have and tell you more about the boats and their lives aboard. The boats are our home, so we can tell you some great stories about life on the high seas."
An evening sail will also be offered from 6 to 8 p.m.
Detailed schedule information, excursion descriptions, and ticket purchasing links are available on the Historical Seaport website, http://www.historicalseaport.org. Tickets may also be purchased by phone at 800-200-5239.
Launched in 1989, Lady Washington is a replica of one of the first U.S.-flagged vessels to visit the west coast of North America. Hawaiian Chieftain is an interpretation of a typical early 19th century coastal trader. Launched in 1988, she specializes in hands-on living history education programs for young people.