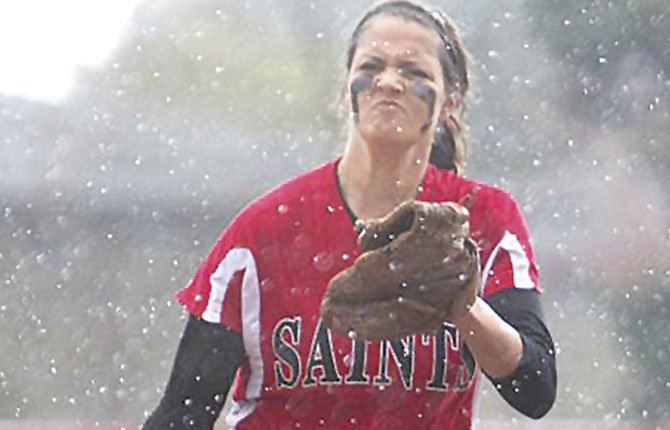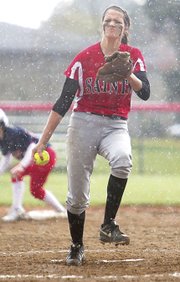 Coming off all-league, all-state and co-Pitcher of the Year honors in her senior softball season at The Dalles Wahtonka in 2012, Ann Marie Guischer left a significant legacy of success in place.
It would hard to duplicate those numbers at the next level, but the wiry right-hander actually surpassed those accomplishments this spring while playing for Mount Hood Community College.
Guischer attained first-team all-league recognition, Pitcher of the Year and All-American status in leading the Saints to third place in the Northwest Athletic Association of Community Colleges classification.
"Going into this season, I really wasn't even focusing on winning any awards. I just wanted to perform at my best," Guischer said. "I think winning those awards last year in high school and now that I am pitching so well here, showed me how good I could become. I am very thankful to have everyone helping me along the way."
Guischer amassed a 12-5 record with a 1.45 earned run average, while adding three shutouts.
The freshman phenom tossed 101 innings, struck out 151 batters and walked 50 in her 24 appearances.
She allowed two runs or less in 23 of her appearances, struck out 10 or more opposing batters five times and even added a no-hitter on March 8 in a mercy-ruled victory over Blue Mountain Community College.
Guischer said she was confident in her abilities coming in as young collegiate athlete, but admitted she was nervous as to how she would fare.
Her coach, Meadow McWhorter knew there was something special about Guischer from the first week of conditioning drills during winter term.
"It is a test to their mental toughness, heart and their ability overcome challenges," McWhorter said. "This was her first week with the team and she really made a statement that first week. She finished every drill in the middle or near the front of the pack. Not once did she quit or not fully complete a drill. She earned the immediate respect of her teammates and her coaches."
Guischer won her first three appearances, with the no-hitter coming in her third-career start.
From March 23 to April 16, the freshman went 2-4, but then won six games and had no losses in her final 10 times in the circle.
One of those games was a playoff tilt against Clackamas, where she allowed two hits, struck out seven and did not walk a batter in her complete-game performance, a 3-0 MHCC quarterfinal triumph.
That run ended in the last two rounds of the double-elimination playoffs, as MHCC lost 6-1 in the semifinals to Wenatchee Valley and then lost to eventual runner-up, Douglas Community College, 5-4.
With an already expanded pitching repertoire, Guischer has improved all aspects of her pitching game to added control, velocity, more movement and a new weapon in a rise-ball.
"That comes from coaching and some of the drills we have to do. It helped my arm strength," Guischer said. "I have gained a lot of knowledge by pitching here. I think I can get better and better though."
The Dalles Wahtonka softball coach Steve Garrett has seen Guischer throw since her 10U days all the way until college, so he knows the intricate details on what has given her success.
She joins a long line of former TDW players that have made the jump to college ball.

"I know she will continue to enjoy success as long as she demands excellence of herself," Garrett said. "I think she knows what it takes to pitch at the next level and is doing the things necessary to get there. Her natural gifts, combined with a good work ethic and a love of the game will take her to the top."
Aside from all of the accolades and awards, Guischer has had to try to balance school, social life and softball practice for many hours in a day.
She is working towards an associate of sciences degree where she would apply for a radiology program to become a radiology technologist.
"Compared to high school, it has been tough coming here and doing this sport," Guischer said. "It is like a job almost. We have practice and then I come home late to do homework and then I get up early in the morning and do it all over again. We have study halls and so much support. It is a lot of work, but it is rewarding in the end."
Now the real work begins for Guischer, as she tackles the NWAACC for her sophomore campaign.
She is no longer a secret.
Just like in a new season in the always-tough Columbia River Conference, the South region brings its challenges, so Guischer said she is not going into this next season thinking that she is better than anyone else – she wants to go out and put in her due diligence to get to that point again.
"I look forward to watching her continue to grow in the classroom, on the field and as a person," McWhorter said. "She will be an influential leader for us next season."