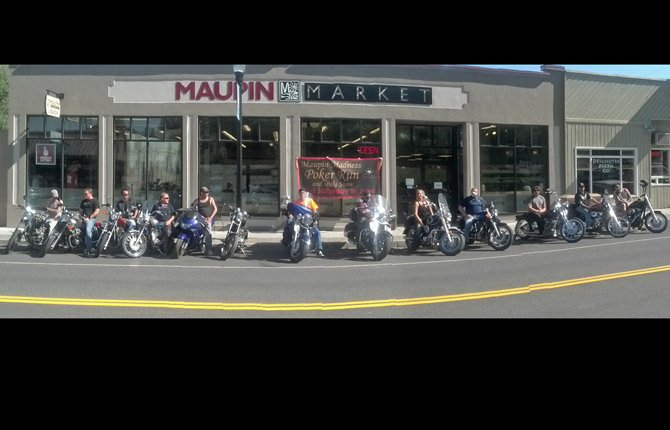 Maupin — Biker groups from the Northwest and beyond will converge on Maupin this weekend for a riding challenge that benefits severely injured combat veterans.
"We always have a lot of motorcyclists coming through town because this is such a beautiful area so we decided to plan an event that would be fun for them and also raise money for a good cause," said Cristie Amaral, coordinator for the Maupin Chamber of Commerce.
She said many bikers are veterans and involved in groups such as the Patriot Guard riders to demonstrate support for the troops. Therefore, the chamber decided to have the first-ever Maupin Madness Poker Run on June 8 to benefit the Wounded Warrior Project, one of the nation's top charities.
The nonprofit organization based in Jacksonville, Fla., has made it a mission to help those who have served in the wars of Iraq and Afghanistan "define their new normal" and become the most well-adjusted generation of veterans in history. That mission is being accomplished by enlisting the help of Americans in establishing programs to meet the needs of combat survivors who have lost limbs or sustained another type of life-altering injury.
Wounded Warriors also focuses on encouraging veterans to help each other overcome challenges related to their reintegration back into the civilian world when they leave military service. Many of the more than two million veterans who have served in the Post-9/11 wars suffer from the "hidden wounds" of PTSD (Post Traumatic Stress Disorder) and brain injuries caused by exposure to the blast of roadside bombs, the number one killer of U.S. forces in the Middle East.
"We emailed every bike club in Oregon, southwest Washington, northern California and western Idaho about this event and the weather is going to be beautiful so we are hoping for a good turnout," said Amaral.
Registration for the poker run takes place from 8 a.m. to 10 a.m. at Greenway Park across from Maupin Market and costs $15 for the first hand and $5 for the second.
Breakfast will be available from local vendors, who will also sell a variety of other items to add to the festivities.
Amaral said an almost 200-mile ride along winding roads and over rolling hills will provide bikers with scenic views. She said participants will also have the opportunity to visit the Central Oregon communities of Shaniko, Antelope, Fossil, Condon, Wasco and Morrow.
Amaral said bikers will be dealt five cards at stops along the way and prizes given at the after-party for the best and worst hands.
The Imperial River Company on the banks of the Deschutes River, 304 Bakeoven Road, is providing visitors with rafting trips from 1 to 4 p.m. on June 8 and will be the site of the after-party that starts at 5 p.m.
That celebration will include a 50/50 raffle and bikers can also enter their ride into a show for $10 and vie for one of six trophies.
The merriment includes food served by vendors and at the Imperial's restaurant and bar, with proceeds from that establishment to be donated to Wounded Warriors.
Micro-brews from Bend Distillery will be served and live music provided by local groups Harmony Calling and Backwards Saddle, as well as the Derrick Michael Marc Band that performs from 7 to 10 p.m.
"We are hoping to make this an annual event that eventually grows enough to create a motorcycle rodeo with an entire weekend of activities at the Wasco County Fairgrounds," said Amaral.
Overnight camping and lodging is available June 8 at several locations in and around Maupin.
Information about these options can be found by calling 541-993-1708 or on the chamber's website at: www.maupinoregon.com