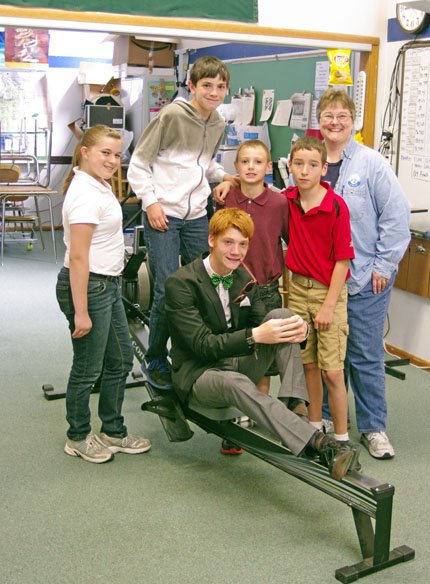 Another 2,500 miles were rowed
Covenant Christian Academy students pushed themselves in the physical fitness category this year, running approximately 5,000 miles combined during the school year.
All Covenant Christian students, from pre-kindergarten to eighth grade, participated in a daily 15 minute "walk-jog" around the campus.

New to the physical education program this year was indoor rowing and skiing. The third through eighth grade students used three Concept2 machines to log over 4 million meters (approximately 2,500 miles). As a team, Covenant Christian Academy placed 156 out of 1,784 teams competing for the school year.

The top rower was Luke McLean, who logged 500,000 meters. Darlene House earned the "Most Improved Rower" award. Alex Wood and Jesse Williams won awards for being the top elementary student rowers. Michael Lantz was the top Covenant Christian rower during the World Erg Challenge (WEC), a month-long team event where teams log as many meters as possible.

The Covenant Christian team, called "R-cubed" for running, rowing and reading, placed 65 out of 146 teams of all sizes and ages world-wide.
The school competed in several online worldwide challenges this year against people of all ages. The middle school students row daily for 15 minutes. Many completed individual challenges to earn awards and certificates from Concept2 and some classroom award incentives, too.
Teacher Lisa Albrecht raised money for the rowing machine last year.
One classroom incentive was the "Bend or Bust Challenge." Four students completed this challenge to row the length of the Deschutes River from the Columbia River to Bend, or about 205 miles. Students participate in two periods of P.E. a week in addition to the daily running and rowing.