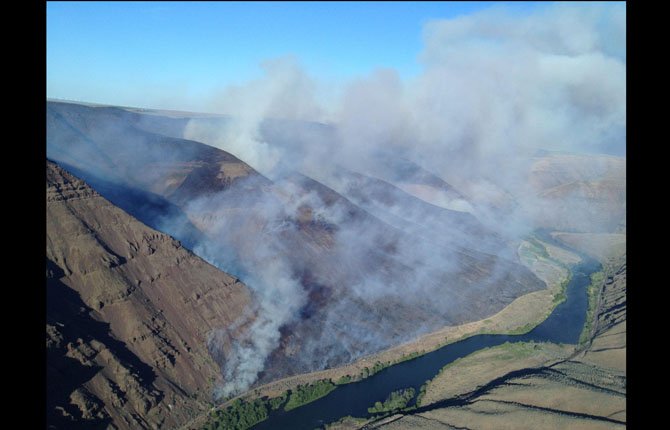 A wildfire that has burned 3,300 acres along the Lower Deschutes River is suspected by investigators to have been caused by sparks from a campsite in the area.
The official cause of the Gordon Butte fire has not yet been determined but is believed to have been caused by humans and not lightning, according to Lisa Clark, spokesperson for the Central Oregon Interagency Dispatch Center.
She said Monday evening that the fire, which began burning Saturday night in light, grassy fuels, is now considered 50 percent contained. There are 80 personnel from local, state and federal agencies battling the blaze and the ground crew is supported by a helicopter providing bucket drops of water.
If hot dry weather predicted Tuesday and Wednesday doesn't produce high winds, Clark said the fire could be fully contained by the evening of June 5.
The fire began about 9 p.m. June 1 in Sherman County and involves both public and private lands. Although no structures have been lost, the historic Harris Ranch on Oregon Department of Fish and Wildlife land remains threatened. The ranch established in the 1900s is best known for its restored water tower.
When flames jumped across the river into Wasco County during a period of high winds, ranchers and members of the Columbia Rural Fire District engaged in suppression activities.
They managed to contain the south end of the blaze and, as of press time Tuesday, were working to keep the blaze out of wheat fields to the north.
Clark said the lead agencies at the scene are the Prineville Bureau of Land Management, North Sherman Rural Fire Protection District, U.S. Forest Service and Oregon Department of Fish and Wildlife.
She said access to the river remains open but dispersed camping is not available within the fire perimeter and boaters have been warned to be aware of the helicopter working in the area.
Mid-Columbia Fire and Rescue in The Dalles was asked by Sherman County emergency dispatchers to assist in fighting the blaze about 5 p.m. Sunday evening. Dan Hammel, division chief, said a brush rig and a water tender manned by six firefighters helped battle flames until 4:30 a.m. Monday morning.
"Because of a hot spell earlier this spring, the fine fuels for a fire have dried out earlier than normal," he said. "And even though we got a lot of rain last week, that moisture is not going to turn grass that has already cured green again."
He said those conditions led the fire district to enact a total burn ban May 20, just days after the Fifteenmile Fire near The Dalles burned 10 acres. The services of more than 35 firefighters from multiple agencies were required to extinguish the fast-moving blaze.
After noting dried grass under a top layer that was green, Hammel said the decision was made to start the fire prevention season six weeks earlier than usual. Residents and visitors to Wasco County will not be able to burn again until the restriction is lifted when the rainy season begins in September or October.
Clark said campfire and barbeque bans are now in place on BLM-lands along the Lower Deschutes and john Day rivers and portions of the Crooked River. Visitors should plan on using white gas or propane stoves. These restrictions also prohibit smoking unless a person is on the water or in a closed vehicle.