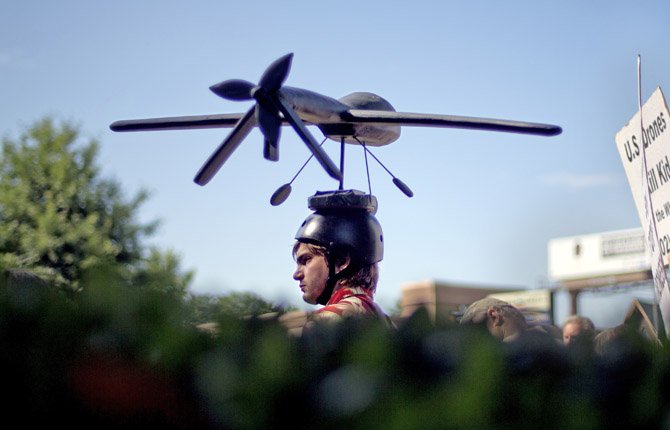 When talking about drones — Unmanned Aerial Vehicles in official parlance — it's not surprising that quite a few people call to mind dystopian science fiction.
In George Orwell's "1984," for example, one way Big Brother keeps watch is through small, unmanned planes that peep through windows.
That's the kind of scenario a number of legislatures around the country are tackling this year — with varying degrees of success — as law enforcement agencies salivate over the benefits of drones in domestic surveillance, including Oregon.
Oregon Rep. John Huffman, R-The Dalles, has sponsored House Bill 2710 that would put a statewide framework in place for the use of drones.
"The pre-eminent factor in this is the individual's right to privacy," Huffman said June 1.
However, Huffman also recognizes the usefulness of drones for domestic purposes such as agriculture and certain law enforcement activities, such as accident investigation and search and rescue.
"There's not a lot of restriction in [my bill], except where it comes to use by law enforcement and state agencies," Huffman said.
Drones have helped save lives in search efforts and the technology is already available for them to analyze accident scenes, measuring skid marks and other data while still allowing traffic to flow through the area. However, the bill would establish a framework of guidelines designed to protect individual privacy and constitutional rights.
Under the bill, agencies would have to record their uses, and require a search warrant except under
certain specific exigent circumstances.
"We need to remember that we have a legal system, a system of getting a warrrant for probable cause," Huffman said. "You can't surveil someone without good reason or a court order. We need to make sure individual rights to privacy are kept intact."
Huffman believes his bill is the middle ground that will balance the individual's right to privacy with the real benefits of drone use and protection of a growing industry both in the Pacific Northwest and the gorge.
Oregon certainly needs a solid framework that takes those factors into account.
Without it, the state runs the risk of individual municipalities creating an uneven patchwork that would make drone use, even for positive purposes, a nightmarish proposition.
Law-abiding Oregonians — and all Americans — should have a reasonable choice of whether or not to give away their privacy.
Many surrender their privacy voluntarily, by posting information on Facebook, or using store reward or membership cards that allow retailers to track your purchases, and even sell that information to outside marketers. But it is through their own actions, knowing or unknowing.
The standard line for detractors of such protections is, "If you aren't doing anything wrong, you don't have anything to hide."
But there are plenty of things that may not be strictly illegal but could have negative consequences for the person in question if revealed by someone who discovered it while flying a surveillence drone, such as a sexual dalliance or even a job interview.
Individuals do and should have the expectation that they can go about their daily business without Big Brother taking note. Since the implementation of the USA PATRIOT Act (Providing Appropriate Tools Required (to) Intercept (and) Obstruct Terrorism Act of 2001) that expectation has been on shakier ground.
We now have technological marvels that can monitor Americans almost constantly. Specifically because we do, we need to have stronger laws to protect individuals from random intrusion by their own government.
We've all heard the saying "power corrupts and absolute power corrupts absolutely."
These tools may have valuable uses, but they also heighten the opportunity for abuse.