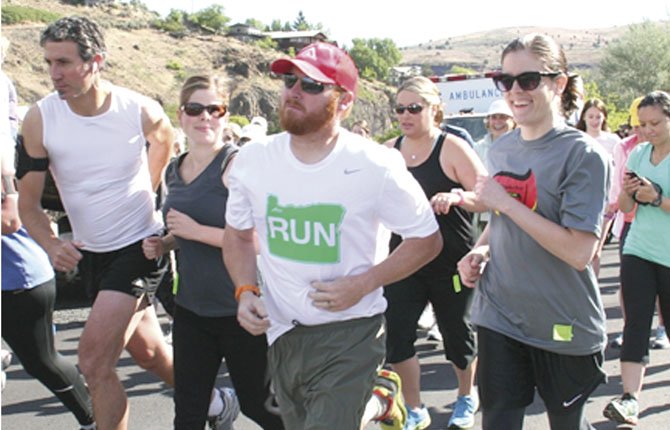 Riverfest Run results
Riverfest 5k, 10k, half-marathon Race on May 25-26 in Maupin
5K Results (Men)
Rob Miles 21:34

Ronald Harper 24:09

Loren Henderson 28:56

Gary Lundgren 34:47

Sam Knoll 49:14

Cliff Knoll 49:14

Bryan Mears 50:36
5K Run (Women)
Tasha Morelli 29:24

Jennifer Zacher 30:05

Ashley Anderson 31:42

Linda Trautz 31:56

Catherine Sava 33:37

Sandy Willis 34:12

Taylor White 36:20

Brooke Remington 38:12

Jane Robinson 41:43

Dorene Sheldon 42:07

Barb Pierce 42:47

Holly Miles 43:04

Susie Miles 43:29

Gwen Knoll 49:15

Aurora Mears 50:35
10K Run (Men)
Ben Anderson 44:33
10K Run (Women)
Leanne Neal 50:22

Amanda Hoey-Remington 53:17

Sheila Burchell 53:38

Marti Mayhew 68:43

Maria Valdivia 75:49

Jennifer Zimmerlee 89:21
Half Marathon (Men)
Bryan Mears 1:56

Kyle Chaffin 2:45
Half Marathon (Women)
Alisandra Denton 1:50

Janina Mass 2:01

Heidi Cardoza 2:20
A good crowd came out for the annual Riverfest 5k, 10k and half-marathon in Maupin with some close finishes highlighting the events spanning two days on Memorial Day weekend.
In the women's 5k run, two minutes separated first-through-fourth place, as former South Wasco County High School athlete Tasha Morelli slipped through the field in an impressive final time of 29 minutes and 24 seconds.
Jennifer Zacher came close to pulling off an upset, by stayed 41 seconds in back of Morelli where she stopped in 30:05.
Ashley Anderson (31:42), Linda Trautz (31:56), Catherine Sava (33:37) and Sandy Willis (34:12) rounded out the top-6.
Maupin native Rob Miles had his best form showing on this opening day of racing action with first place in the men's 5k race with a time of 21:34.
Ronald Harper ended up at 24:09 for second place, Loren Henderson (28:56) wound up third and Gary Lundgren scored fourth place in 34:47.
Sam and Cliff Knoll churned out times of 49:14 to finish in a deadlock for fifth place and Bryan Mears added a marker of 50:36 for seventh place.
Madras' Ben Anderson secured top honors in the 10k event in 44:33 to lead in the men's class, and The Dalles's Leanne Neal ran away in 50:22 for first place on the women's side.
Amanda Hoey-Remington was within striking distance of Neal in the 10k race with a 53:17, as she edged past Hood River's Sheila Burchell, who had a mark of 53:38.
Marti Mayhew (68:43), Maria Valdivia (75:49) and Jennifer Zimmerlee (89:21) capped the six competitors.
Mears, out of Hood River, took an early lead in his half-marathon event with a time of one hour and 56 minutes, besting Stevenson, Wash.'s Kyle Chaffin, whose 2:45 garnered second place.
Hood River's Alisandra Denton hoisted gold in the women's half-marathon in 1:50 for a more than 10-minute cushion over Hood River's Janina Mass (2:01).
Heidi Cardoza, also out of Hood River, grabbed third place at 2:20 to round out the short field.
The next race is the White Salmon Backyard half-trail run at 8:30 a.m. on Saturday, June 15.
This fundraiser event is free to enter with a suggested donation of $12.
For more information, send an email to aldushan @yahoo.com.