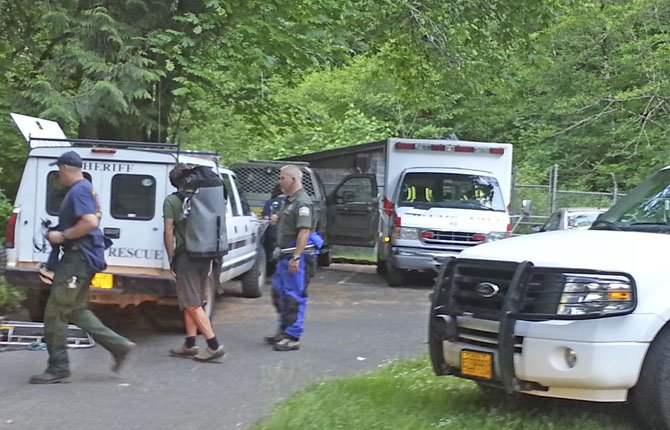 Hood River — HOOD RIVER (AP) — Divers on Monday recovered the body of a Cincinnati, Ohio, man who died after jumping off Punchbowl Falls in the Columbia River Gorge, a sheriff said.
The body of Jason Endicott, 25, was found in about 12 feet of water below the cliff where he jumped, Hood River County Sheriff Matt English said.
Endicott was part of a group of five people who hiked to the top of the falls late Sunday afternoon, English said. Four of the five jumped into the water. One of the three who survived was treated for hypothermia.
Endicott's body was taken to a funeral home, the sheriff said.
Members of the team that recovered the body hiked 2.5 miles up the trail with their gear, then coped with the rough water below the falls.
The hikers who took the plunge actually dropped 80 feet, jumping from a point about 30 feet above the 50-foot-tall falls.
A television meteorologist estimated the water temperature to be about 45 degrees.
People regularly jump off the falls when the temperatures rise. The water looks inviting after a hike, but jumping is risky, English said, with the threat of currents and thick sediment making the water shallower that it appears.
A sign at the trailhead warns that cliff jumping into the shallow pool below the waterfall is illegal and may result in a $300 fine.
"There have been problems here in the past," Sheriff's Sgt. Pete Hughes said.
"It's a dangerous thing to do."
Witness Claudette Rushing had an emergency foil blanket that she gave to the jumper who suffered hypothermia.
"By the time I got there, there were about seven people, and everybody was just sitting on him with their body warmth trying to keep him warm because he was so wet and cold," she said.
Sunday's rescue operation was the second of the weekend at Punchbowl Falls.
On Friday, a search and rescue team helped a man who suffered neck and back injuries after jumping off the falls. The man, whose identity was not available, was taken to a hospital.