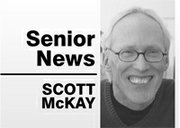 The Dalles — Several weeks ago I highlighted the public transportation options available in the Mid-Columbia area (for a reminder you can go to www.gorgetranslink.com).
But even the best system can't meet every transportation need. That is when friends, neighbors and the community are asked to step up to fill the gaps.
An example is Don and Gae Wimberly who recently spoke at the Mid-Columbia Senior Center about Relay for Life, which is scheduled for June 22 at the Wahtonka campus track. After their speech, the Wimberlys had a chance encounter with a person who had recently been diagnosed with cancer and was searching for a ride to Portland for treatment.

The good news is that Don found a person willing to drive that person to Portland. But knowing there were probably many more folks needing rides for medical attention, Don contacted Gretchen at the American Cancer Society office in Portland who — through the American Cancer Society's "Road to Recovery" Program — is willing to coordinate local volunteers who have the time to provide rides. If you are willing to drive a patient to cancer treatment or if you can't find a ride, give Gretchen a call at 1-800-227-2345 or go on line at www.cancer.org/driveamile.
As it says on the organization's website, "Road to Recovery is the very essence of the American Cancer Society mission — people helping people overcome cancer. Won't you help a patient get on the road to recovery?"
It would take too much space to include every new phone scam but I'll mention this one because a friend has recently been receiving recorded calls from medical alert imposters.
According to the Oregon Department of Justice, these imposters claim to be from Life Alert, a company familiar to many older adults.
The recordings sound like a real person claiming "someone has purchased a Life Alert system for you" or that "you qualify for a free Life Alert."
If you receive a recorded call like this, simply hang up the phone and DO NOT press a button to talk to a sales person. And once again, never give personal information or credit card numbers over the phone unless you have initiated the contact or you are sure you know who you are dealing with.
If you think you have fallen victim to this medical alert scam, or any others, contact the Oregon Department of Justice online at www.oregonconsumer
.gov or call 1-877-877-9392.
I will post all the scam alerts that come across my desk on the center's web page at www.midcolumbia
seniorcenter.com.
Have you noticed how rapidly technology is changing? You now have constant access to the world using your smartphone, can vacuum your floors with a flying saucer- shaped robot; and you can buy a bracelet that monitors how far you walk and how well you sleep. On Tuesday at 11 a.m., Tim McLoughlin will discuss how this rapidly changing technology is shaping education, including the classroom use of tablets, video conferencing, Google Earth and 3-D printers.
Mel Omeg caught a mistake in my last column. The "Pocketful of Feelings" workshop IS free and from 6–9 p.m. BUT it is at The Dalles Wahtonka High School Auditorium, is open to the whole community and no registration is required. This special one-of-a-kind training will give you ways to help your grandchildren better understand their emotions and feelings.
And before the colors fade and the threads run bare, playing tonight at the center is "The Strawberry Mountain Band." On Tuesday, June 11, "Martin and Friends" will be performing. Music starts at 7 p.m., everyone is welcome and donations are appreciated.
The three young men who helped launch the pop-folk boom in 1958 were the Kingston Trio. (And theis week's winner is Alex Currie.) And for this week's "Remember When" question, it is time to revisit one of the great hard rock bands of the 60's and 70's. What is the name of the four person English rock band formed in London in 1968 by Jimmy Page, which is is considered one of the most innovative and influential rock groups ever and the second-best-selling band in the United States? This group disbanded in 1980 after the death of their drummer John Bonham. E-mail your answer to mcseniorcenter@gmail.com, call 541-296-4788 or send it with the stairway bought by "a lady who's sure all that glitters is gold."
Well, it has been another week trying to face the music without losing the beat. Until we meet again, enjoy the present because as Dan Williams reminded me "Today is the oldest you've ever been. And the youngest you'll ever be."
menu
Wednesday (5) Ham
Thursday (6) Spaghetti with Meat Sauce
Friday (7) Chicken Pot Pie
Monday (10) Chicken Fried Steak
Tuesday (11) Roast Beef and Gravy