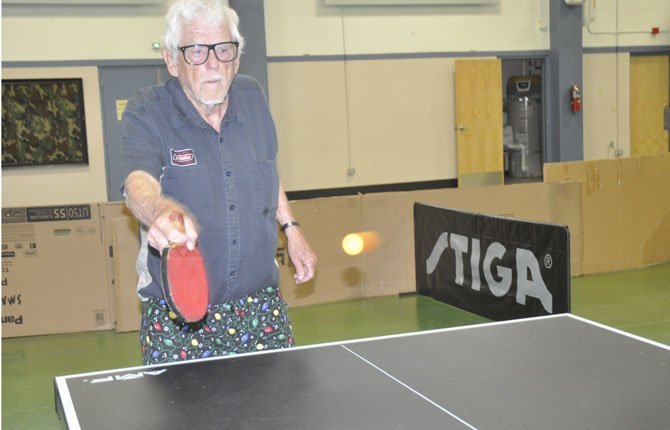 The Columbia Gorge Table Tennis Club started with humble beginnings in The Dalles home of Joe Cruz, an avid player, about four years ago.
"Joe had a table so we just started networking with other people who liked to play," said Bill Nielsen of Hood River.
Today the club founded by Nielsen and Cruz is made up of about 20 players who meet twice weekly at the Hood River Armory, 1590 12th Street, for practice sessions.
"Technically speaking, it's one of the fastest mind-thinking games in the world – it's like aerobic chess," said Cruz.
Although the group's first meeting place was the Civic Auditorium in The Dalles, Cruz said the majority of competitors came from the Hood River area, or White Salmon just across the Columbia River. So the decision was made about three months ago to relocate the program to Hood River to accommodate the majority of participants.
Meeting times are 6:30 p.m. Wednesday and 3 p.m. Sunday and the cost for a two to three-hour session, including use of a paddle, is $5, with proceeds used to rent the space and purchase new tables and equipment as needed.
"We have people coming at all skills levels and ages – we encourage anyone who wants to try it out just to show up," said Cruz. "It's an Olympic sport and a great form of recreation – I've lost 40 pounds playing so it's also a good way to exercise."
The way the program works, he said, is that people challenge the winner at each table and during that process they work to upgrade the rating that denotes their skill level. The top players in the world hold a rating of about 3,000, said Cruz, and the average for club members is 1,000. He said special software programs allow matches and games to be recorded to compute ratings.
"I'm still learning with a rating of 933 and am super happy to be amongst such great players," said Cruz.
Ben Baird, 85, of Stevenson is the top ranked – 1,308 — and oldest player in the club. He has been lobbing the ball since 1962. He said the secret to his success is a long handled paddle that allows him to put a spin on the ball that makes its movement unpredictable.
"It's knuckle ball and it's hard to reach," he said.
Three decades ago, Baird competed in the National Table Tennis Championships in Las Vegas, Nev., and won first place in the under 1,600 games category. He's moving a little slower these days but is still spry enough to beat back the competition.
Ellen Vorster of Hood River was the first female player to join the club. She saw a poster at Spooky's Pizza in The Dalles that advertised the group and decided to join others who shared her long-time interest. She is now ranked sixth in Oregon for the Women's Division of the sport.
"It's such a fun thing to do whether you are playing socially or more seriously," she said.
Darrell Anderson of Stevenson, the resident coach of the group for almost two years, is ranked 63 in the state with a 1,199 rating. Cruz said Anderson has been instrumental in improving the club's playing level with his "charismatic" method of teaching.
Another player, Adam Prekurat of Hood River, has held the gorge masters champion title since 2011 with a rating of 1,096.
"When you play, you can go anywhere and you are always like a family, so to speak," said Cruz.
He can be reached for more information via email at gorgetabletennis@yahoo.com or on Facebook under the name of the group.