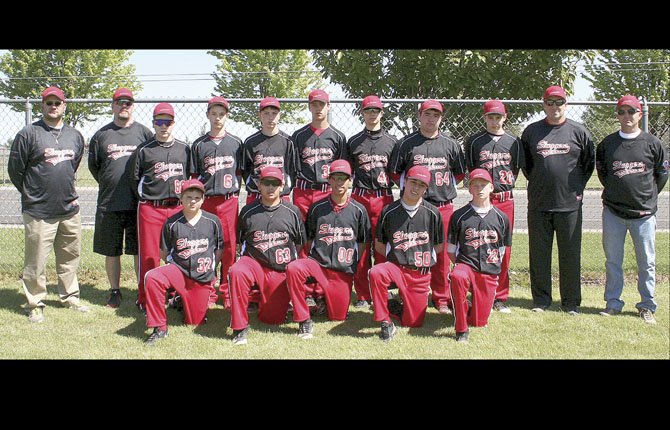 Coming off a 1-3 record at the Yakima, Wash. 'Battle of the bats' the 14U Junior Baseball organization Sluggers re-shuffled the deck and rebounded with a 4-2 record in the three-day Memorial Day Redmond High Desert Classic.
The Sluggers had things working in their favor early in tournament play with consecutive wins over Tigard (11-2) and Knappa, Idaho (5-2) by a combined 16-4 margin.
John Miller picked up the win in the opener, while Dawson Hoffman had a solid outing in holding down a tough Idaho squad.
The chore was that much tougher in the next round, where the Sluggers hit the diamond against a Tigard Federal team.
Tigard inched away with a close 5-3 win over the Sluggers and hurler Tyler Westin.
After that loss, the Slugger bats were on fire in their Sunday nightcap contest versus the Sandy Nationals with an 11-0 victory serving notice.
St. Helens Federal was next on the docket for the Sluggers and they cruised to a 10-1 triumph.
In their final game of the tournament, the Sluggers used another top outing by Arellano and had the offense put out a 10-1 victory over the host Redmond Americans.
In all, the Sluggers had four players post batting averages of .500 or better in outscoring their opponents by a 41-20 margin, a major offensive improvement from the 10 runs scored and 27 allowed in the Yakima tournament.
Miller paced the offense with a .625 average with four runs, two RBIs and three stolen bases.
Preston Klindt had a .583 average with a home run, a double and five singles for his hit total.
He swiped three bases, drove in five and scored eight runs.
Westin notched three doubles for his .545 average, adding two stolen bases, five RBIs and five runs scored.
Boston Bate led the team with six stolen bases and hit a healthy .500 with four RBIs and four runs added to his stat line.
There were other healthy contributions from Daniel Peters (.444), Hoffman (.364), William Justesen (.364), Tanner Herriges (.364), Arellano (.333), Court Strizich (.286) and teammates Jacob Wetmore (three runs, three RBIs) and Izaac Tapia (four walks, three runs).
With some critical momentum on their side, coupled with extensive practice time, the Sluggers hit the field again for a two-day tournament starting on June 8 in Aloha.
After that, they then head out to Forest Grove on June 15-16.