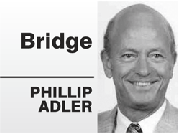 Josh Billings, the pen name of humorist Henry Wheeler Shaw, said, "There are people who are always anticipating trouble, and in this way they manage to enjoy many sorrows that never really happen to them."
Bridge experts, though, are always anticipating trouble, and in this way they manage more plus scores than those who always assume everything will work out perfectly.
In today's deal, South opens and closes the auction with his three-spade bid. West leads the diamond 10. East wins with his ace and returns the diamond two. What should South do now?
The traditional requirements for a weak three-bid are two of the top three or three of the top five honors in the seven-card suit and 5-10 high-card points. These days the requirements have been lowered by many players, especially at favorable vulnerability. But it does not hurt to have a textbook hand occasionally.
North thought about raising to four spades, but knew game was unlikely. And he hoped that East might balance, allowing North to double the opponents and gain a sizable penalty.
It is tempting for South to win the second trick on the board and immediately to play a trump. However, with this layout he would go down. West would take the trick and give his partner a diamond ruff. East would cash the heart ace, and West would get a second trump trick.
South should anticipate the 5-2 diamond break. (In theory, if East had started with three diamonds, he would have returned his higher remaining diamond, not the two.) Before touching trumps, declarer should cash dummy's top clubs and discard his third diamond.