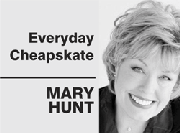 Dear Mary: I have many complete sets of McDonald's Happy Meal toys, all of them in their original sealed packaging. How do I value this collection to sell? — Stan, email
Dear Stan: Collecting vintage toys can be very lucrative. Happy Meal toys are a popular collector's item, but prices can fluctuate greatly depending on where you are selling the toys.
Start by following carefully the sale of items similar to yours on eBay. By tracking the price over time, you can get a sense of the range of value your pieces may have. You might want to attend a McDonald's Collectibles convention where you can have your collection valued, or search for an online merchant like Collector's Connection that will give you a good idea of the value of your toys. Another option is to purchase a price guide like McDonald's Happy Meal Toy Value Guide by Terry Losonsky.
Dear Mary: Please help me. I have known for some time that I have a shopping addiction. I have always spent money carelessly and recently had a job where I started paying some of my bills with their money. I confessed to my husband and need professional help. What should I do? — Kit, email
Dear Kit: I'm sure you realize this is serious, but I need to reiterate that fact. You have committed the crime of embezzlement. You must immediately go back to that place of employment and come clean with those who are in charge. Hold nothing back. Take your husband with you if he will agree. This may be the most difficult thing you will ever do, and you must.
Your confession must include the full extent of your actions with no excuses or justification — your heartfelt apology and regret together with a very clear-cut plan for restitution. If you can have every penny of the money you stole in your hand for them at this meeting, that would be ideal.
Just know that the company has no obligation to forgive or accept restitution. They have every right to file a police report and have you arrested. However, I believe that they will be so astonished by your heart of repentance that they will not do that. Just know that is the risk you take for doing the right thing. (Even if you do not confess, you can be sure they will find out eventually, and things will go far worse for you.)
As for getting professional help, I would highly recommend that you make an appointment with a good family therapist that specializes in addictions. I would also recommend that you get to the closest meeting of Debtors Anonymous (debtorsanonymous.org). This is a 12-Step program that follows the AA model.
I wish you well and I want to congratulate you for having taken the first and most important step, and that was confessing this terrible thing to your husband.
Do you have a question for Mary?
You can email her at mary@every
daycheapskate.com, or write to Everyday Cheapskate, P.O. Box 2099, Cypress, CA 90630.
Mary Hunt is founder of www.DebtProofLiving.com, a personal finance member website.
To find out more about Mary and read her past columns, please visit the Creators webpage at www.creators.com.