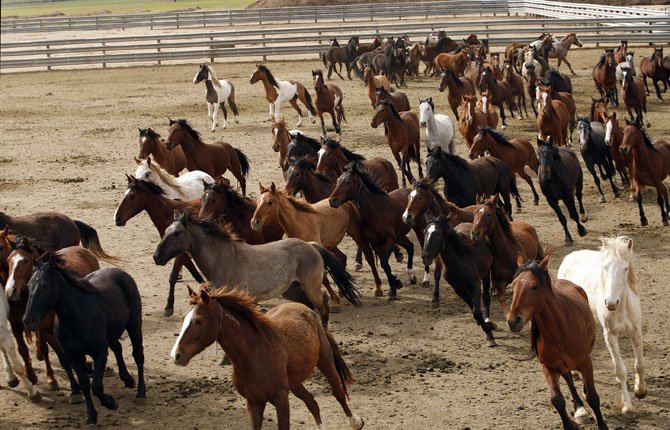 RENO, Nev. — An independent panel of scientists that spent two years reviewing the U.S. government's contentious management of wild horses planned to release a series of recommendations Wednesday to combat skyrocketing costs and help quell decades of conflict on public rangelands.
The study was expected to touch on a wide range of fronts, from mustang roundups and fertility control to better ways to calculate the preferred size of the free-roaming herds and their impacts on rangeland ecology in 10 Western states.
The Bureau of Land Management requested the appointment of the 14-member research committee by the National Academy of Science's National Research Council in June 2011, nearly three years after congressional auditors concluded rising costs at facilities to house tens of thousands of gathered animals would "continue to overwhelm the program" with no end in sight.
Especially contentious is the disagreement over the role of and need for the roundups, a debate that has pitted horse protection advocates against ranchers in competition for the grasses for decades but has become more acute in recent years for cash-strapped federal land managers with no room for any incoming animals.
The number of animals at holding facilities surpassed the estimated number on the range in 10 Western states earlier this year for the first time since President Richard Nixon signed the Free-Roaming Horses and Burros Act of 1971.
A recent BLM report shows 49,369 wild horses and 1,348 wild burros were being housed in government corrals and pastures. It said 31,500 wild horses and 5,800 burros remained in the wild — about half of them in Nevada.
It estimates the population on the range doubles naturally about every five years.
The federal land management agency averaged removing 8,000 horses from the range annually from 2002 to 2011. Last year, it spent more than half of its wild horse budget on holding facilities alone, more than $40 million.
BLM announced in March that budget cuts had forced it to scale back weekend operations at its largest wild-horse adoption facility in the country — the Palomino Valley National Wild Horse and Burro Adoption Center about 20 miles north of Reno.
The research committee planned a formal release of its report in Washington, D.C., on Wednesday at 1 p.m. EDT.
The 14-member panel chaired by Guy Palmer, an expert in animal disease and public health at Washington State University, includes Nevada's former state veterinarian, grazing specialists at the U.S. Geological Survey and Colorado State University, a wildlife scientist at Montana State, a forest health researcher at UC Berkeley, a landscape ecologist at Brigham Young University and experts from the St. Louis and Bronx zoos.