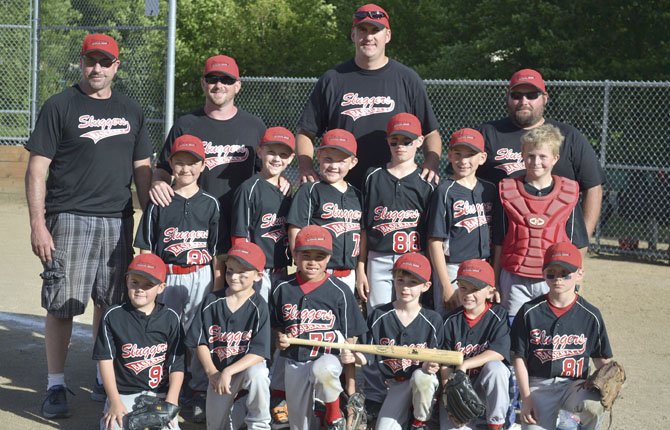 For a 10U draped with many young athletes who are playing their first season of competitive baseball, the Sluggers 10U Nationals capped their solid spring with a 3-1 record for third place honors this past weekend in Junior Baseball Organization Tournament play in Aloha.
With the hot hitting in the lineup, the Sluggers racked up 32 runs scored in their three wins.
Up first in their tournament journey was a tough North Marion squad, but the Sluggers had no issues with this bunch, scoring a tournament-high 17 runs in a lopsided 17-8 victory.
Staked by that opening win, the Sluggers had the hot sticks working against Aloha, where they rapped out seven runs in inching through a 7-6 win to go 2-0 in the tournament.
In Sunday action, the Sluggers hit a bit of a speed bump in a loss to the Bulldogs, but this group rebounded in style in another nail biter, 8-7, over the Cavs.
Sluggers head coach Bob Townsend said while it has been an adjustment for his crew to play against older and more seasoned players, but they have adapted in many ways.
"We have seen improvement daily with them," Townsend said. "That is the one about coaching younger kids. From a Monday to a Tuesday, they are a lot better. So, it is rewarding working with them like that. I think they see it too. Just from where they couldn't hit, but now they are making contact. Now they understand how to lead off the bases and things like that. It is a learning curve, but they are doing very well."
There is a fine realization that this is still a building process.
At this stage in the game, it comes down to teaching, learning, wanting to improve.
It is not about wins and losses at this point, it is about getting better while developing a love of the game and engaging in competition.
"That is the difficult thing because kids still want to win too, so it is hard trying to teach them, 'Hey we learned how to do this today and that was important,'" Townsend said. "They all love baseball or they would not be putting in the extra time here. I am excited with how much they have improved this spring."