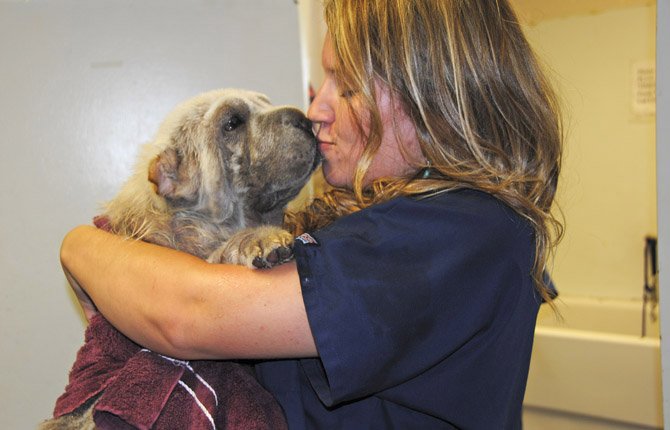 Sometimes it's possible to have too much of a good thing.
Owning one Shar Pei dog, for example, is great. Fifteen or 20 — not so much.
That's why Home at Last Humane Society partnered with Dogs of the Gorge and the Shar Pei rescue group Aleks' Angels to rescue 15 of the distinctively wrinkly dogs from a hoarder in Goldendale on Monday.
"It was a lot of dogs, a lot of chaos," said Home at Last operations manager Gale Simpson.
It's not the first time dogs have been taken from the home. Last year Oregon Humane Society took 40 Shar Pei dogs from the owner. The court has ordered that the owner is only allowed two dogs — spayed and neutered — from now on.
Simpson said they were told there were 12 dogs to be taken away, but she heard more barking and discovered three more dogs hidden in the bathroom. The dogs weren't living in healthy circumstances.
"I had to leave the house a couple of times to breathe," Simpson said. "It was the worst I've ever smelled."
She said many of the dogs had bite marks from competing with each other for food and space. Some had dental disease, ear infections, mange, flea allergy dermatitis, genetic defects and an eye condition known as entropian which is common in Shar Pei's and requires surgery. They were also very dirty.
"We stayed up until 10 p.m. giving them vaccines and bathing them," Simpson said. "It was heartwarming to take them in and give them a bath and see the change in them. We were seeing different dogs already."
She said people get into hoarding situations because they love animals but eventually get too many to care for successfully.
"People get overwhelmed and are afraid to ask for help because they are afraid they will get in trouble, but we would rather come in and help than have it get to the point where animals are not getting the care they need and are suffering," she said.
Lisa Mabrey of Dogs of the Gorge took two of the dogs and Jan Neudelmann of Aleks' Angels took three back up to the rescue in Seattle, but the other 10 are at Home at Last where they are being spayed and neutered, vaccinated, medicated and treated. Simpson said once the medical issues are taken care of and the dogs' temperament is assessed they will be up for adoption.
Kris Boler, director of Home at Last, said that if people want to help one of the best things they can do is donate grain-free dog food, which the Shar Pei's need in order to address their skin conditions. People can also donate money for their care, volunteer to be a foster family for Home at Last or let the shelter know they're interested in adopting once the dogs are cleared for adoption. She said she is very grateful for the community support that allows Home at Last to do rescues.