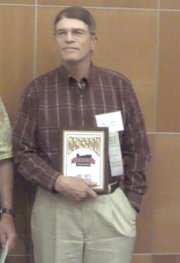 At any level, to coach athletes takes a special breed of person – The Dalles Wahtonka Track and Field Coach Bill Caddy exemplifies that notion 100 percent.
While in Eugene for the state track meet, Caddy and fellow Tribe coach Bob Thouvenel were given awards from the Oregon Athletic Coaches Association for 45 years of service.
It is still an unbelievable feeling.
Six years ago in 2007, Caddy was named to the Hood River High School Athletic Hall of Fame.
Fifteen years earlier, he hoisted his first OACA service award for 30 years.
He has never slowed down since.
"I never imagined I would receive a 45-year award," Caddy said. "(It is a) rare achievement. Not many coaches coach for 45 years. This represents camaraderie with coaches and years of teaching young athletes."
From his early days, Caddy starred on the track, court and field while at Hood River High School until graduating in 1963.
At the high school level, he was an all-league recipient as a football player and he earned an all-league and all-state selection.
Just because he walked across a stage for graduation did not mean his athletic career was complete.
At the Oregon College of Education (OCE), which is now Western Oregon University, Caddy played football and basketball.
In his fifth year at the university, he coached the freshman basketball team, until his graduation in 1968.
Caddy then moved to the gorge area with his wife Gladys and he has enjoyed coaching for nearly five decades.
"She has been the special person who helped me these years," the coach said. "She has organized the family time around my coaching hours."
And hours he has put in.
While in The Dalles, Caddy developed several gifts of coaching young adults in their sport.
He is currently a hurdles coach for the TDW squad.
Like Thouvene, Caddy gave praise to several athletes, inthe 1977 The Dalles graduate and triple jump record holder, Rick Stace. Caddy has seen the kids come and go, so there is a smorgasbord of favorite moments and favorite athletes to share.
Most of all, he enjoys when an athlete 'gets it,' the light goes on and the athlete understands what the coach has been trying to convey.
"Teaching athletes the fundamentals of the sport, then watching them be successful (is one of the gifts of coaching)," Caddy said. "Several years later, when you see them again, they thank you."
As an elder statesman in the coaching world, Caddy points to many nuggets of advice for prospective coaches, who wish to mold and shape young athletes of the future.
He said that a successful coach has leadership skills, a basic knowledge of the sport, treat athletes like you want to be treated, emphasize carryover skills and know the KISS theory (Keep It Simple Stupid).
TDW athletic director Kyle Rosselle has just begun his journey, so to see two of his own coaches with 90 years of knowledge and experience is humbling to say the least.
Rosselle wishes he could tap into all of their years of experience.
"I hope to get to a point in my career where I have had 30-40 years of experience like coach Caddy and coach Thouvenel," Rosselle said. "By coaching this long, you have the ability to affect so many relationships with kids in a positive way and impact the community in a positive way and overall, be the example that we need for our kids to succeed."