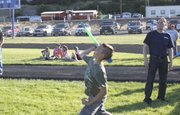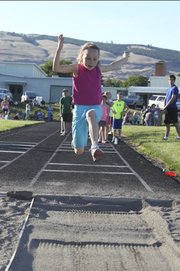 Event organizer Tom Conklin was smiling ear-to-ear after revealing his thoughts on how well the turnout was for the annual Jumpstart Elementary Track and Field Meet Tuesday at Sid White Field in The Dalles.
Conklin felt it was a hit, as close to 75 athletes from kindergarten-through-fifth grades were on hand for a full evening of learning and competition.
This was a major attendance boost from last year's number of 55 participants.
Some of the parents echoed Conklin's sentiments, calling it a slam-dunk.
"I know that my kids loved it and it was great to see all the students smiling and enjoying themselves," said Chenowith Elementary School music teacher Corin Parker. "I can only guess how much organization and work it took – a billion thanks."
The event was also a collaborative effort, as Dry Hollow Physical Education specialist, Cory Carpenter, local parent Brian Strassheim, Jumpstart Basketball coach Tim McClure and a handful of other adults were on hand in a tutorial role as well.
The Dalles Wahtonka High School graduate, Luke Conklin, home from his first year of college at Northwest Nazarene University, worked as the decathlon instructor, as well as the javelin and long Jump clinician.
He gave the kindergarten-through-fifth grade youngsters a clinic on how to throw the javelin, how to long jump and how to use spiked shoes and why.
Many kids competed in every event on the docket, some of them included long jump, javelin and running events like the 100, 200, 400 and 800-meter runs with some solid times and distances put up.
Dry Hollow Elementary special education instructor, Amy Hampton, saluted Conklin, Carpenter and countless others for creating an amazing evening of track for elementary students from across the gorge.
"There was a great turnout of students and parents. I was very impressed by the organization and flow of the nigh as well as by the athleticism and camaraderie that I saw," Hampton said. "It was wonderful to watch the kids cheer each other on throughout the night. Last night was a true reminder of why we are here and what we are working for."
The Colonel Wright PTO and the Dry Hollow PTA provided completion ribbons to the participants.
J.R. Runyon, a Physical Education specialist at Dry Hollow, Carpenter and Conklin, of Colonel Wright Elementary organized these Track and cross country meets as part of a District 21 Elementary Physical Education curriculum program with a final exam – to compete in a real event.
As the years have gone on and the event has gained much popularity, more parents, coaches and community members have come out with a focus in helping the youths.
"We look more forward to putting on these types of meets because it takes less effort to pull them off," said coach Conklin. "This is largely because of the help from parents and some Jumpstart coaches that help out. Every parent and non-parent enjoys the event."
The simple speech that Runyon, Carpenter and Conklin give each day in gym classes is two-fold – Never give up and do your best.

"This is also the language at all of our Jumpstart events," Conklin added. "It's a lesson that every age can benefit from. A turtle only advances when they stick their heads out."
The depth of the events has grown as well, spanning from running to technical activities – there could be others added through the years, of course.
"I like to offer activities that have been so rewarding to myself and many others throughout the years," Conklin said. "I'd like to think that we are preparing youngsters for the middle and high school programs by providing success-oriented activities like track, Jumpstart Basketball Camp, and fall cross country races."