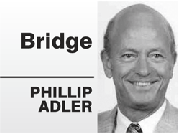 On a game show, a prize was a trip to a European destination with a week in a luxury hotel that, according to the announcer, included 24-hour access to the contestant's room!
At the bridge table, access to one hand or the other can be vital to enjoying success. How does that apply in this deal?
Against three no-trump, West leads the spade nine. How should South plan the play?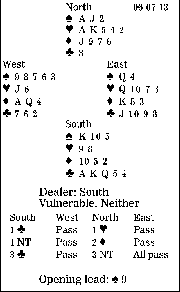 In the auction, North's two-diamond rebid was New Minor Forcing, promising at least game-invitational values and asking opener to describe his hand further. Three clubs denied three hearts, indicated a good five-card suit, and implied a weak spade or diamond holding. (Otherwise, South would have continued with two no-trump.)
South has eight top tricks: three spades (given the lead), two hearts and three clubs. Where will he find winner No. 9?
Against best defense, there isn't time to play on diamonds or hearts. Declarer must get a fourth club trick. But that requires losing one club and having a hand entry in spades.
If South reasonably assumes the spade nine is top of nothing, he can take the first trick with dummy's ace and play on clubs. But it is safer to put in dummy's spade jack. If it wins, South's king is his entry; or, if East covers with the queen, South wins with his king and can get to his hand with the spade 10. But if South errs by playing the spade two, East puts up his queen, and the contract's door closes.