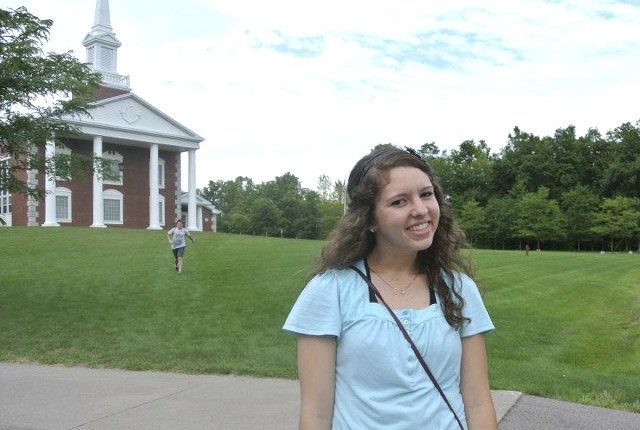 Five alumni from last year's graduating class at The Dalles Wahtonka High School have chosen to serve as full-time missionaries for The Church of Jesus Christ of Latter-day Saints.
Sam Ferguson left for Pocatello, Idaho in February. Paul Jubitz left for Argentina in March. Jill Corey left for Provo, Utah in April. Logan McDowell left for Mexico City on May 15. And Chrysta Despain will be headed to Tampa, Florida in July.
Young men and women referred to as Mormons have the opportunity at age 18 and 19, respectively, to apply to serve an 18-month or two-year mission teaching their religion to others. Once they send off their application they have no idea where they will end up or what language they will be speaking until the day they get their "mission call" in the mail.
Despain, who will spend time learning Spanish at a missionary training center in Mexico City before going on to Florida, said she can't wait to leave.
"I am really looking forward to learning Spanish," she said. "All I wanted was to get to serve in the Spanish language. I'm also really excited to see people change their lives, and I really hope that they can let me be a part of that."
She said she will miss her friends and family, and she is worried about being able to answer all of the questions people might have. But her desire to help others is overriding those worries.
"I love the Gospel of Jesus Christ so much," she said. "It is the reason for everything. It answers so many questions, brings me true joy, and is a great way to live life. I want everyone to know about it, and have the opportunity to choose if they want to love it as much as I do."
Despain, who has been a member of The Church of Jesus Christ of Latter-day Saints her whole life, said that she has a good foundation in her church's doctrine through religion classes at Brigham Young University as well as attending an early morning religion class for teens, known as seminary, during high school.
Before he left on his mission McDowell voiced many of the same reasons as Despain for why he had decided to put his schooling on hold for two years in order to share his faith with the people of Mexico City.
"I believe that my church has an important message; that it is Christ's church restored through the prophet Joseph Smith in fullness upon the Earth. I believe the Book of Mormon is the word of God as well as the Bible and I want to share that message with the people of Mexico," he said of his reasons for going.
He said he took Spanish classes throughout high school and had opportunities to use it when he worked with Spanish-speaking children at the Oregon Child Development Coalition. Those experiences will give him a head start on the language program he is currently going through at the Missionary Training Center in Provo, Utah.
He said he is excited about the chance to become fluent in a foreign language and spend two years immersed in another culture. But he also is sad that he won't see his older brother Lance get married in August or his younger brother Cole graduate from high school next year. Missionaries are allowed to email their family and call on Mother's Day and Christmas, but they are expected to stay out in the mission field and not field visits from family members or come home for special events.
McDowell said he believes the sacrifice will be worth it.
"I'm actually not very nervous because I'm doing what I believe in and I've had many great examples before me like my brother and my dad," he said. "I feel in my heart that this is the right thing to do."
LDS missionaries spend their time proselytizing door to door, teaching those interested in their religion and giving service. Some of the rules they live by — such as no alcohol — are standards they have held as long as they have been members of the church. Other rules—no TV or movies, no secular music and no dating—are special to the mission and are meant to help the missionaries stay focused and feel closer to God as they minimize distractions.
Before she left, Jill Corey said that the thing she was most nervous about, more than giving up things like television for a year and a half, was the language. She will be teaching the Spanish-speaking population in Utah. She said she had been pondering whether she should go on a mission someday, and when the LDS church recently lowered the mission age for women from 21 to 19, her mind was made up.
"I had been thinking about it for a long time, and when the age change occurred that made it seem more possible, it felt like the right thing to do," she said.
The five missionaries, who have been friends since a young age, will be reunited in two years.
Submitted by Jaime Webster, a public affairs officer for The Church of Jesus Christ of Latter-day Saints in the Columbia Gorge.