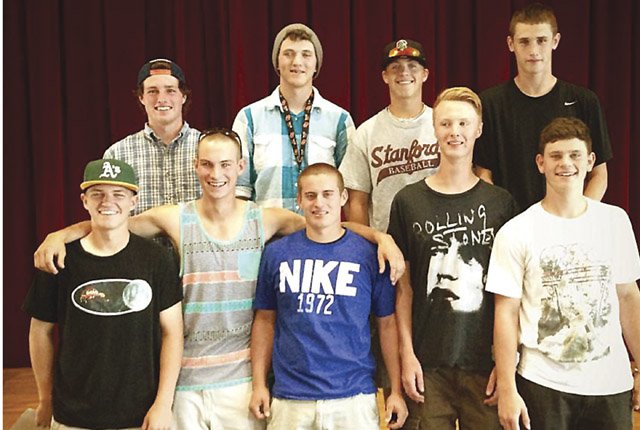 With such a solid performance during the 2013 season, The Dalles Wahtonka baseball team had four players chalk up spots on the 5A all-state team for their standout seasons.
Nolan McCall secured first-team all-state honors and the trio of Steven Bartells, Kaci Kiser and Connor Mathisen grabbed second-team recognition.
"It was nice to see a lot of our players on here. Our team represented well," said TDW coach J.R. Runyon. "All season long, they improved every day. That is the goal for all of our guys. When you show up to practice, you are there to work on something and to get better each day. That is a clear representation with the first and second team selections."
After securing an honorable mention slot on the all-state list in 2012, junior third baseman Nolan McCall followed that breakout season with a team-high nine home runs and 42 RBIs with a .407 batting average and parlayed those numbers into a spot on the first team.
He was a co-Player of the Year and a first-team recipient for his play in Columbia River Conference action.
The right-hander scored 24 runs and had a team-high 37 hits, seven walks, and an on-base average of .451 and a slugging percentage of .802.
Out on the hot corner, McCall committed 10 errors for a .870 percentage. He also turned four double plays.
As a Player of the Year winner, McCall is also in line for voting as the state's Player of the Year.
"He has always been a competitor and now he is starting to refine some of his skills," Runyon said of the junior slugger. "Balance and pitch selection have been the key for him. He has the ability to go to all fields and not just being a pull hitter has definitely helped him. In order to do that, he has done a lot better job of staying balanced through his swing."
Even with gaudy numbers, McCall and a few of the returners will have to put in some extra time in the weight room to get in better shape for a possible chance to repeat as CRC league champions.
"We worked hard even last off-season," McCall said. "This off-season we need to work a little harder and hit the weights a little more and maybe clean up a few things and we will be right back here in the playoffs again."
As a player who received a first-team all-league nod as an outfielder, along with a second-team grab as a pitcher, Mathisen's numbers were good enough to garner a slot on the second-team all-state for his play in the outfield.
The senior had nine extra base hits; one of those was a home run, to go with 24 RBIs, 19 runs and a .329 batting average.
The left-hander was issued a team-high 24 walks, boasted a .477 on-base percentage and a slugging number of .500.
Blessed with a cannon arm and a keen eye for angles, Mathisen committed three errors on 65 chances for a .954 fielding percentage.
He also had 11 outfield assists.
"He is another really smart kid and a talented player," Runyon said. "He had been kind of a coach out on the field so to speak. He controlled centerfield and he made all of the plays. He helped us out offensively as well in the three spot. I am just proud that he was able to get on the second team, he deserved it."
After a drop in the order from leadoff to sixth, Bartells flourished and became a better offensive contributor in the state's top-10 offense rising from a .295 average up to .364 to place him on the all-state second team as an infielder.
Runyon recalled a conversation with Bartells on how to better utilize his skills lower in the order.
"We had our conversation and thought it might be best if we move him to the six and we did that and he was able to relax a little more and be able to find his stroke again," the coach said. "It had always been there. It had never left him, but it was just a confidence issue sometimes. He sure has the ability to play this game well and he has shown it throughout his time here."
The junior shortstop led the team with 26 runs scored, 11 doubles and had a team-low five strikeouts in 104 plate appearances.
Bartells drove in 17 runs, had a .430 on-base average.
Playing one of the toughest positions on the field, Bartells had a fielding percentage of .927 with just seven errors on 96 chances.
Bartells also helped turn six double plays.
Runyon is happy he has his standout player coming back for another year.
"He showed an ability to drive in runs and be a key part to the middle of the order. We will need that next year for him to continue to lead our offense. I think he will keep it going."
The driving force behind both McCall and Bartells next year is making sure the outcome of the Eagle Indians' 2-1 state playoff setback to Corvallis does not repeat itself.
"We have to work harder in the offseason and make it up to the seniors who just left," Bartells said. "They worked their butts off, so we need to reward them. We know the amount of work we put into this, so we will need to work even harder to make sure this does not happen again next year."
Along with the comeback story of senior Dakota Walker, who returned after a battle with leukemia, Kiser overcame a 2012 season cut short due to shoulder surgery to post a team-high on-base average of .540 to grab a second-team selection as an outfielder.
"It was a tough year for him," Runyon said of Kiser's tumultuous junior campaign. "He stuck through that year and it paid off. He is reaping the reward now."
Overall, the senior outfielder posted a .403 average with 25 runs scored and 12 RBIs.
He had seven doubles and even slugged a home run and walked 21 times.
As a staple in left field, Kiser had high fielding percentage of .964 with one error on 28 opportunities. With his strong arm, Kiser threw out four base runners.
"He did a great job for us in the outfield. He is a scrappy player, who was fast and could cover some ground," Runyon said. "He got it done offensively for us. He is a guy that always found a way to get on base, all the time. He was a hard worker who came to the field ready to go every day."
TDW had one of its better seasons under Runyon, a big boost up from 2009 where the Tribe advanced to the state semifinals.
That year, Runyon earned co-Coach of the Year, but this season, his led the Eagle Indians to 19 wins, a league championship and a four-game sweep over perennial powerhouse Pendleton on his way to 2013 Coach of the Year honors.
"In getting Coach of the Year, it is a heck of an honor and I am proud of that, but more importantly, it is about these guys and how we can help them become the best that they can be," Runyon continued. "I am also appreciative of my coaching staff and their ability to coach these players well and make them the players that they are."