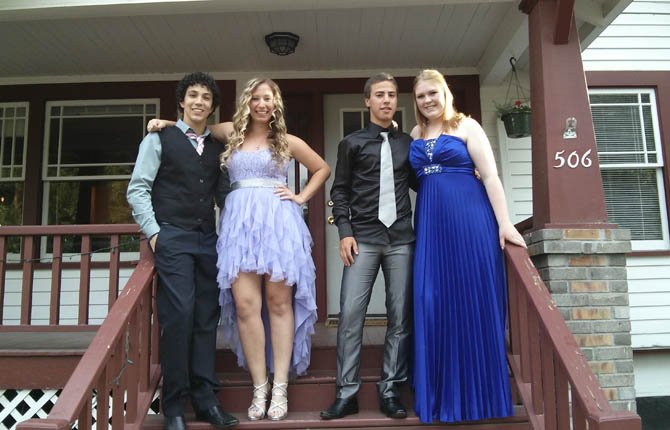 When Julio Silva, a foreign exchange student from Brazil, arrived at The Dalles Wahtonka High School, one of the first things someone asked him was whether he lived in a tree in the jungle back home.
Fortunately he has a good sense of humor.
"Oh yes, my father is Tarzan," he jokes now when he brings it up.
Fellow exchange students Anas Ben Dlala from Tunisia and Alex Licht from Germany can laugh about some of the questions they have fielded as well.
"People ask if I go to school riding a camel," Dlala said.
Those types of questions may seem silly to exchange students coming from modern cities overseas, but they also understand that the questions come from a lack of knowledge, and that's exactly why cultural exchange programs have been set up.
All three of this year's exchange students in The Dalles said they were surprised by some aspects of American culture and hope that they were able to help Americans learn about their culture as well.
Licht said that she was surprised by how nice Americans are.
"People here are very nice and friendly," she said. "People in Europe are more closed off."
Sliva said he also wasn't expecting to get such a warm reception in The Dalles.
"The rest of the world has a feeling that Americans are snobby and think they're better than everyone, but it was not like that. People here are not snobby," he said.
Dlala merely commented that he had watched the movie High School Musical before he came but it didn't turn out to be very good preparation for a real American high school experience.
American culture may be different, but the students said that they have all adjusted so well that now they worry about "reverse culture shock" when they come home again.
"In Brazil we kiss on the cheeks to greet people, but when a friend came here to visit me and did it, it felt weird, even though it's something I've done my whole life," Silva said.
All three of the students said they are so used to speaking English now that they have trouble switching back to their native language when speaking with their parents. Silva said he knew he was used to English when he had a dream in which his mother spoke to him in English, even though she doesn't speak it in real life.
Licht said she has gotten used to the way Americans eat, too.
"When I first came here I was really afraid that I would go to a family that eats a lot of fast food, but now I say to Cheyenne (her host sister) 'Let's go to Taco Bell,'" she said.
The students said they keep up with the news in their native countries but have also watched the news in the United States with fascination, especially during the presidential election in November.
"I watched the presidential debates. It was really interesting … I liked that it was done in a democratic way, but lots of people wanted to be president but only two could be on TV before the election and I thought that was unfair," Dlala said, referring to the process of eliminating candidates through primary elections.
Growing up in Tunisia, the birthplace of the Arab Spring, Dlala could appreciate the importance of fair, democratic elections.
"We had our first election — well, our first real election because in the ones before the president always won 99 percent of the vote — and for the first time we had the feeling of wondering who was going to win," he said. "It was exciting even though I wasn't old enough to vote."
Each of the students had a different reason for coming to the United States. Dlala said he admired America's position as a world power and economic leader and wanted to learn for himself the country's secrets to success. Silva said he wants to return to Brazil for college and then come back to the United States as an ambassador. And Licht said she wanted to see the world, advance her English skills and see why the U.S. has such an influence on the world.
Silva came through the Rotary exchange program, while Licht and Dlala came through AFS. Dlala's AFS program was set up after 9/11 to promote understanding between Muslims and Westerners, and Licht's program was set up after World War II to promote understanding between Germans and Americans. She said decades later there is still work to be done in that arena.
"I hear Nazi jokes, and at the beginning it really offended me. Now I accept the fact that it happened but I know it's not my fault, just like Americans have bad things in their history with the Native Americans," she said.
Licht said she encourages everyone to travel abroad and for students to do foreign exchanges. She said if someone doesn't want to spend an entire year in another country they should consider hosting an exchange student instead.
"It really opens your eyes," she said.
Dlala and Silva both said they gained a lot of maturity and learned to be more responsible during their time away from home.
"I like the quote that says, 'It's not one year in your life, it's a life in one year,'" Dlala said.

Licht has been staying with Ian and Jennifer Weller during her time in The Dalles. Dlala has been staying with Chloris and Mark Mullins. Silva is in the Rotary program and is required to stay with three different host families, so he stayed with Eric and Bridget Nisley, Greg and Kim Johnson and Bob and Barbara Bailey. The students all leave for their home countries in the next week or two.