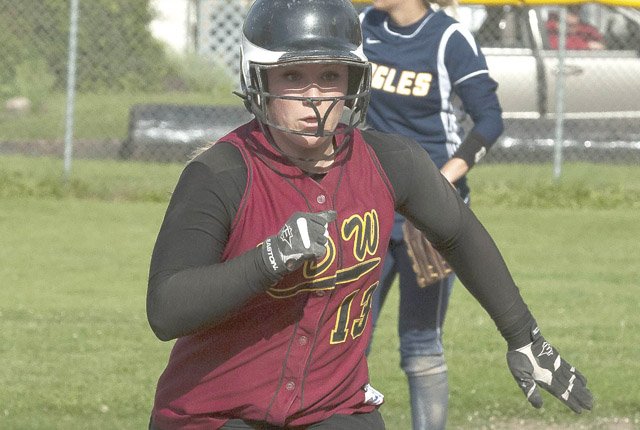 In four years, Katherine Kramer steadily improved to the point where she was one of the most feared hitters across the state.
This season the University of Pittsburgh-bound catcher led The Dalles Wahtonka in eight offensive categories to put a stamp on her career with a second-team nod at catcher.
"I am happy for Katherine," TDW head coach Steve Garrett said in an earlier interview. "Coming in, she knew getting good pitches to hit was going to be tough. She remained patient at the plate and led our offense."
In her freshman campaign, Kramer had a .379 batting average with 13 RBIs and an on-base percentage of .478 to chalk up first-team all-state recognition as a utility player.
That year, she moved from catcher to third base and even outfield and never regressed.
Kramer hit at least .400 in all four years and her batting average swelled to more than .500, her highest in her sophomore season.
On a team in 2013 that scored 170 runs and was held to two runs or lower 10 times, Kramer managed to hit .485 in 12 league games and finished with a team-high 38 hits in 80 at-bats for a .475 average.
She hit two home runs apiece in league and non-league for a team-high four and she added 22 RBIs, also a Tribe best.
The senior scored 26 runs, led the squad with 61 total bases, was issued eight walks and went a perfect 3 for 3 on stolen base attempts.
"She was our most steady player through the season both offensively and defensively," Garrett said. "Katherine consistently hit for us and did a great job defensively behind the plate. She caught every game and never wanted to come out. One thing about Katherine is she is a very competitive player and was the leader of our club."
Kramer notched first-team all-league honors in all four years and capped her 2013 season with a co-Player of the Year selection.
In two of the first three years there was all-state voting (there was no voting tabulated in 2011), Kramer accomplished a feat of earning slots on the first-team page.
Until a quarterfinal run fell one run short this season, before that, TDW had compiled an impressive feat of making long semifinal runs for five straight campaigns.
Also while Kramer etched her name on the roster, the Eagle Indian program amassed a 72-41 record for a 63.7 percent winning percentage. In league action, TDW went 32-25 with one league title.
Garrett added that historically, the Columbia River Conference is the toughest league to play in.
That level of competition should bode well for the future while she acclimates herself to the DI level.
"Katherine is one who is going to have her eyes open," the coach said. "She is a good ballplayer and I think she will be able to do it. I think Katherine has the ability to step up to the competition she is playing against."