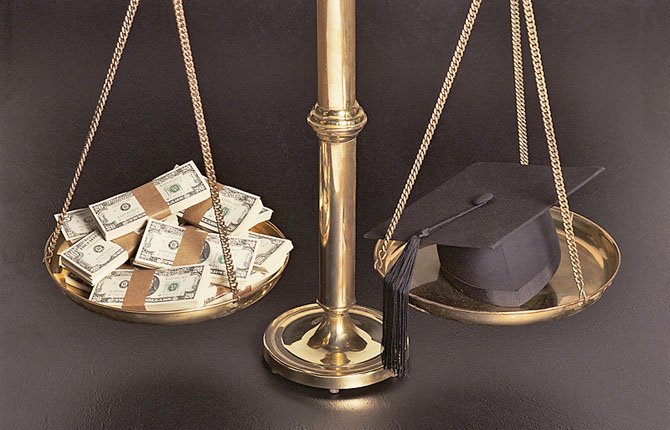 College is expensive, and its cost is about to go up again.
In less than a month the interest rates on federal Stafford Loans is set to double, from 3.4 percent to 6.8 percent, unless Congress comes up with an alternative. This hike will come at a time when student debt has surpassed the $1 trillion mark and college tuition costs are continuing to increase yearly with no end in sight.
Forget trying to get the house paid off before retirement; we're approaching a future in which some people will struggle to get their student loans paid off by then.
If we don't get the cost of higher education under control we will see the economic consequences for years down the road as Millennials put off building homes, buying cars, starting families, investing and spending money on tourism because so much of their income is dedicated to paying off their student loans.
Unfortunately middle class high school students who are graduating this week face a difficult catch-22: If they choose to go to college they are likely to be saddled with tens of thousands of dollars in debt, but if they don't go to college they are facing a new reality where many companies are requiring a bachelor's degree just to answer the phones.
As higher education has become the new normal, the college degree has become the new high school degree — twentysomethings who don't have one are often assumed to be less capable, less focused and less ambitious. For students who weren't born into a family situation that includes a trust fund for college, this new mindset helps keep them at a disadvantage into their adult life.
We don't think a college education should be an entitlement, but we also don't think that it should be out of reach for someone who wants to increase their skills and knowledge before entering the workforce. Working to keep college costs down to a reasonable level will benefit everyone, from students to employers to retirees living off of the Social Security income provided by younger workers.
That's why we can't say enough good things about a new program Columbia Gorge Community College has started which offers two years of free tuition to any local student who graduates with a 3.5 GPA or better.
Now a bright but low-income student from The Dalles knows that if they keep their grades up they could get two free years of schooling in while (we hope) living with family rent-free and continuing with the part-time job they had in high school. If they transferred to a state school, continued to work and lived frugally, they could graduate in another two years with a bachelor's degree and very little debt, depending on what sorts of scholarships and financial aid they could get along the way.
We need more forward-thinking help like this for students, along with measures to keep college tuition and interest on student loans in check.
We also need to do more to help high school students understand just how long their disposable income will be tied up in debt payments — instead of more enjoyable endeavors — if they choose an expensive private school, live in a nice apartment and forgo a part-time job on the side.
Eighteen-year-olds tend to be naïve when it comes to understanding just how much it costs to be an adult, and many young people are finding themselves burdened with more student loan debt than they can handle, just like their parents found themselves trapped in a house they could no longer afford when the recession hit.
Excessive student debt doesn't benefit anyone. Even the loan companies lose out when graduates get in too far over their heads and default on their loans.
We need to work on solutions to help a college education go back to being a blessing instead of a burden for everyone who seeks it.