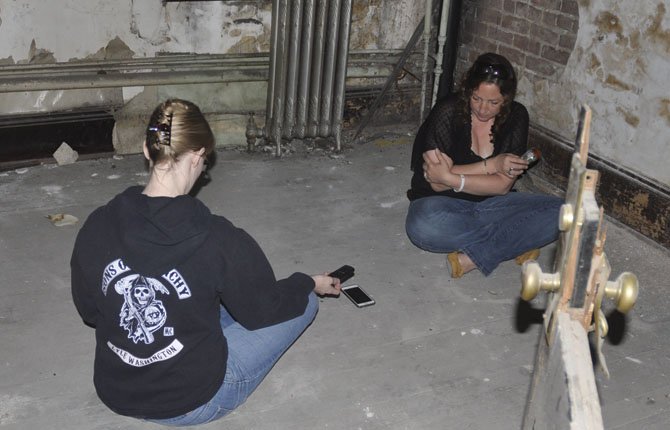 In the days before routine automobile ownership allowed cities to sprawl in single-family suburban style, The Dalles was a much more compact city, with downtown businesses established on the ground floors of buildings, and living quarters built on the upper two or three stories.
Today a fair portion of that space – former apartments, hotels and even bordellos – is empty.
But there's more going on in those old upstairs rooms than most people might think, say the investigators of the Gorge Paranormal Society. The new business in downtown The Dalles offers ghost tours through some of the city's historic buildings, as well as building investigations where they seek to prove or disprove the presence of other-worldly emanations
Jeff and Johna Gadley established the business after moving from the Yakima area to be closer to family here. They work with a team of three free-lance local investigators, Karissa Perez, Miranda Pollock and Heather Maurin. Jeff was an investigator in Yakima and one of the original founders of Northwest Ghost Hunters there.
"I'm trying to get more people into The Dalles to utilize what The Dalles has," Jeff notes.
Unlike most historic tours, and even most ghost tours in the United States, Gorge Paranormal offers tour-goers the opportunity to be real ghost hunters, using their own recorders and cameras while on the tour. Jeff knows of only one other business doing the same and it's on the East Coast. After their experience, tour-goers also get a DVD of what the professionals have recorded and notes on the results.
It's not the typical The Dalles business, but Lisa Farquharson, executive director of The Dalles Area Chamber of Commerce, says it has the potential to bring economic benefits.
"They fit a niche," Farquharson says. "They're the type of business that is going to reach a very different demographic."
She says the chamber's role is to embrace the business and help get information out to potential clients.
"It's another way to look at the history of The Dalles," she said.
Visiting Gorge Paranormal's offices, I get a preview of coming attractions as Jeff runs through a series of EVP (Electronic Voice Phenomena) from various explorations, including those upstairs in the building where they are located.
Faint, but fairly distinct words can be heard.
"We might not hear anything on the EVPs for up to 30 seconds to a minute," Jeff said. "They have to generate enough energy to speak to us."
They try to debunk as much as they can of what they collect. The sound of a piano heard at the Pioneer Cemetery, for example, turned out to be a one of the investigators' cell phones. But a strong "move back" heard in the same visit, has no explanation.
"It was a pretty strong spirit," Jeff said.
On one of the recordings, the word "KA-RIS-SA" clearly comes through.
The investigators share stories of previous exploits, like visits with three separate spirits on an exploration in one downtown building: Carolina, Rita and Skinny Vicky.
Johna admits to having been a big skeptic when she first became involved, but says she has experienced some things she can't explain any other way. She isn't an investigator. Instead, she handles many of the more earthly administrative functions of the business.
As part of our first interview, Karissa and Jeff invite me upstairs to the realm of Carolina, Rita and Skinny Vicky. I've long had a fascination with what these unused spaces have to tell about life in days gone by – and their potential for the future – so I jump at the chance. It's daytime and we go without the EMF (Electromagnetic Field) detectors and cell phone recorders that are standard equipment on a ghost tour or investigation.
The spirits are present, but aren't as active during the day, Jeff explained later, when the living are bustling around. So investigations and tours yield better results at night.
Nine apartments still exist upstairs, each complete with a raised closet and raised bathroom that includes a clawfoot tub. Beneath the tub is a compartment where a bedframe is concealed and can be pulled out for evening use. Old woodwork, flooring and peeling wallpaper give a glimpse into a different time.
They suspect the building once housed a bordello. An intriguing slot outside one apartment prompts a story from Karissa and Jeff. They suspect a visitor to the bordello knocked on the small counter of the slot and was expected to pay before entry. On a previous visit, they tried a knock and say they heard what they thought sounded like an exasperated sigh in response.
This room is one where Johna will not venture. She mimes a shudder by way of explanation. All of the investigators have rooms where they are drawn or repelled – where perhaps an otherworldly presence is sending them a subconscious message.
An evening venture into another downtown business is meant to be the main event, but we run into problems. Bar patrons linger loudly after closing and their noise follows us upstairs. A clearly relocated staircase provides problematic access. In one spot we half-climb, half-walk to scale them.
My husband, Rick, has come with me for moral support. We are both open to the possibilities. We have come equipped with our cell phones for recording purposes.
Almost immediately, I can tell traffic noise, coupled with the noisy patrons, will make recording a challenge. But the investigators are undeterred. As Rick walks with Jeff to the other side of the building, I go into a corner room with Karissa, where her EMP meter suddenly lights up and beeps rapidly. The strongest readings come near the floor, so we make a note to check for the presence of live wiring on the floor below, but the readings stop and start, which Karissa sees as a good sign that they might be something else.
"Don't be scared," she says to the room. "We are not here to hurt you."
She asks a series of questions, but is unsatisfied with the answers, so we move on.
Later, she returns with her fellow investigators and senses the presence of others more strongly in the room.
"They really like these three," Jeff whispers, as we hear Heather talking to someone she feels is sitting close by her side.
I join Rick and Jeff in another, quieter room on the other side of the building. Rick was drawn to explore this room. After a few minutes inside, I get a slightly light-headed feeling and a tightness in my throat, wobbling a bit on my feet.
"I just got really light-headed," Jeff says shortly after that. "I almost fell over." A spirit message or poor air circulation? I can't say for sure.
Jeff told earlier of a visit to another building where he said his senses were so overwhelmed by a bombardment of words that he had to leave. He says he has had other such strong experiences in the past.
"Did you hear that?" Jeff says a moment later. Neither Rick nor I hear anything. Several times during the exploration Jeff thinks he may have heard something that escapes us. However, our recordings may reveal something our ears did not.
Later, reviewing my recordings at home, I hear mostly my own breathing (I'll have to work on that) and sounds that seem most likely to have come from downstairs or outside.
Rick, however, is surprised to hear something on a 6-second recording in the room we visited together: a quiet, tinny voice that seems to say, "Help me."
We make plans for a visit to Clock Tower Ales the day before my deadline, in hopes of a tour under better conditions.
In the meantime, I talk to others who have been part of tours in various downtown buildings.
Cal McDermid was with Jeff during his experience being bombarded by words. He says he is open to the possibilities, but didn't experience anything.
"In my opinion of the experience, it was very professionally done," Cal says. "Jeff really talked like he knew what he was looking for and what he was doing. He had the proper equipment and he was very respectful of the property."
Jennifer Gaither says, "I thought it was quite fascinating. I took away that there are actually things we don't know about. There are spirits lingering, walking and talking."
Gorge Paranormal debuted a new piece of equipment during Jennifer's tour. It's a "ghost box" similar to the ones used on the television show "Ghost Adventures" on the Travel Channel. The device generates white noise, Jeff explains, which its manufacturers claim uses AM radio frequencies to make the ghosts more audible. In the case of Jennifer's tour, it seems to have worked.
"The spirit said his name was 'Bob,'" Jennifer noted. After speaking through the ghost box, Jeff told the voice it had been nice speaking with him. "At the end, it said, 'You, too'."
Jennifer said they also spoke to a little girl named "Jessica."
"We asked her if her mother was here and she said 'no'."
If anyplace in The Dalles should have the potential for spirit activity, it should be Clock Tower Ales. Its building was the second Wasco County Courthouse, which included not only a jail but a hanging tree as well – the reason the owners use hangman's nooses in building décor. The building also served as a mortuary for many years and its upstairs rooms are currently leased by the Masonic Temple.
Owner Mark Powell has agreed to allow Clock Tower to be on the Gorge Paranormal Society tours.
"Anything to support the history of The Dalles," Mark says. He is supportive of anything that can bring the hidden history of The Dalles to light – "and with the twist with the spirits to boot, that's great entertainment."
He hopes the ghost tours will draw not only history fans but paranormal thrill seekers.
Plenty of historic names are associated with this old building, but our ghost hunters are looking for one in particular: Daniel Norman Williams, hanged in 1905 in Wasco County, was the last man hanged publicly in Oregon.
We start upstairs. Ghostly experiences have been reported in several parts of the building, including a ghost believed to sit in a chair on the stair landing.
In one of the main rooms, we get an electromagnetic field reading on one of the gauges.
"Daniel, if you're here with us, let us know, give us a sign," says Heather.
"Were you guilty of the crime that you were hung for?" asks Jeff.
Turning on the ghost box, we hear a lot of static as it scans.
"They say spirits can actually grab words and talk to you through this," Jeff says.
Instead of "Daniel," the name "Devon" comes through the device's speaker. As we continue to ask questions, we hear what sounds like responses:
"Were you a Mason?" netted no apparent response, but "Were you a Grand Master?" received an apparent "yes."
"Did you die a Grand Mason?" received a "no."
Asked to identify two specific occupants of the room, a clear "Heather" is heard, then a slightly fainter "Kathy." Heather's name is clear later on in the recording. Mine is less distinct.
Downstairs, we enter a storage room where some reports of ghostly activity have occurred.
"You scare the employees, but you won't show yourself to us? How is that fair?" Jeff asks.
At one point, we hear a rattling. Jeff thinks Paul has been jingling something in his pocket, but he denies it. A little later, I hear a distinct rattle-like sound from another corner of the room. Both sounds come through clearly in later review of my recordings.
Jeff says a photo in the room has revealed an orb. These images, which rarely show up outside of photos, are believed to be the images of spirits in the environment.
We make our way through the rest of the basement, asking questions and taking photos as we go, hoping to find evidence of other-worldly presence.
Not until I review my photos the next morning do I see, in a random shot of a pile of rubble in an unused corner of the basement, a tiny orb hovers above the broken masonry.
Gorge Paranormal Society will celebrate its grand opening at its 406 E. Second St. offices this Monday, June 10, from noon until 2 p.m., offering free hotdogs cooked on a barbecue on loan from Northern Wasco County Parks and Recreation.
For more information, call 509-594-2436 or visit their Facebook page at Gorge Paranormal Society.