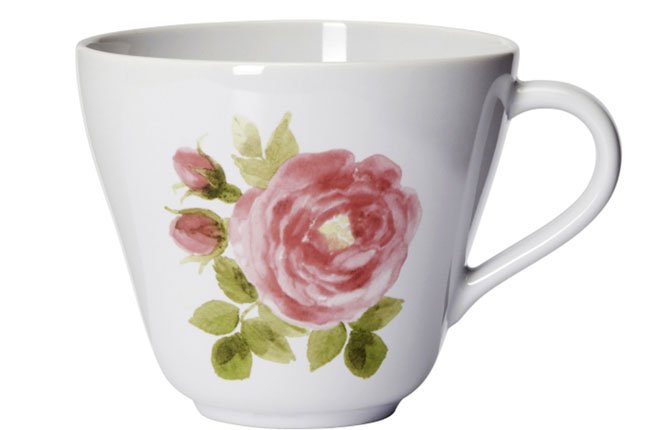 A line of IKEA coffee and tea cups that can break when filled with hot liquid and scuba gear with a potentially deadly defect are among this week's recalled consumer products.
Here's a more detailed look:
Coffee and tea cup

IKEA's LYDA jumbo coffee and tea cups can break when hot liquid is poured into them, posing a burn hazard. The 20-ounce cups are four inches tall and are white with a pink rose and green leaves. Printed on the bottom of the cup is the following information: Model number 302.033.7; Supplier number 10866; the IKEA logo; the words "IKEA of Sweden Design and Quality," and "Made in Thailand." Eleven thousand weree sold in IKEA stores nationwide and 220,000 worldwide.
No incidents of injuries have been reported in the U.S., but there have been 20 incidents reported worldwide, including 10 scalding injuries.
For more information call IKEA at 888-966-4532 or visit www.ikea-usa.com and click on the recall link on the home page.
Scuba gear
DiveAlert and DiveAlert PLUS signaling devices with model numbers DA2, DP2, or DV2 can malfunction and restrict the diver's air flow, posing a drowning hazard.
The signaling device is used to activate a loud surface horn or an underwater percussion noise to alert others in the event of a diver's emergency.
The DA2 is black with an orange button, the DP2 is black with a gray knob and red button and has DiveAlert PLUS printed on it, and the DV2 is black and red.
They can be used with Aqualung AirSource, Oceanic Air XS, Aeris Air Link, and Mares Air Control regulator/inflators.
About 2,500 of the devices have been sold worldwide between July 2009 through May 2013 and no incidents have been reported.
For more information call DiveAlert at 800-275-4332, send email to info(at)divealert.com, or visit www.divealert.com and click on Recall for more information.
Machetes
Gerber Bear Grylls Parang machete can cut through the stitched sheath, posing a laceration hazard.
The black nylon sheath measures 16 inches long and 3.5 inches wide and has "GERBER" printed in gray and two Bear Grylls logos in orange.
The machetes with sheaths were sold as a set or as part of Gerber's Apocalypse Survival Kit The model numbers are on the package and include 31-000698, 31-001507 and 31-002289.
Model number 30-000601 is on the package for the Apocalypse Survival Kit.

These sheaths were sold from February 2012 through February 2013 — a total of 91,000 in the U.S. and Canada — and eight reports of lacerations have been filed.
For more information call Gerber Legendary Blades at 877-314-9130 or visit www.gerbergear.com and click on "Product Notifications" at the bottom of the page.
Metal Halide lamps
Philips Lighting Company is recalling the egg-shaped, clear glass, 150-watt industrial metal halide lamps because internal wiring can arc, causing a fire or shattering glass.
Recalled lamps were manufactured between November 2012 and March 2013. "Philips," ''150W" ''ALTO M142/0," ''Hg," ''USA 3A-1" and "MHC150/U/MP/4K" are stamped on the lamp.
"MasterColor," ''Ceramic Metal Halide ED-17 Protected," ''Hg - Lamp Contains Mercury" are on the side of the sleeve. "MHC150/U/MP/4K ALTO" and Universal Product Code (UPC) "46677 37724" are on a label on the side of the sleeve. They were sold from November 2012 to April 2013.
One failure has been reported out of the 8,100 lamps sold.
For more information call Philips Lighting Company at 800-372-3331 or visit www.philips
.com/recall for more information.
Supplemental bottles
Country Life Target-Mins iron supplement bottles — brown with a black top and green banner at bottom — are not child resistant if sold from January 2013 to May 2013.
Call 1-800-645-5768 for more information.