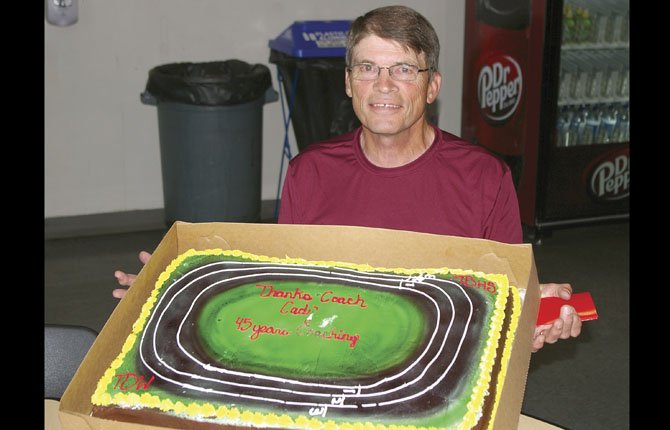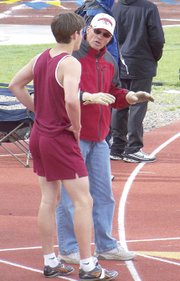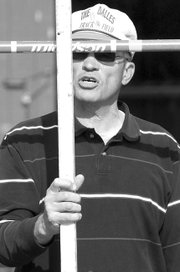 For the last few years, Bill Caddy has found it harder and harder to walk away from coaching.
It has been a major part of his life.
He has been an essential part of the fabric of The Dalles, bringing leadership, knowledge, sound words and an influential element that has brought the best out of athletes for the past 45 years.
Once this track season wrapped up, however, Caddy admitted that he was worn out, with a little less zip in his step.
He knew it was time, but this decision is not one to be made by the faint of heart – it tugged at his heartstrings.
Tears came from his eyes as he captured all of the moments of his career.
"It is not that easy," Caddy said. "I get choked up when I talk about some of my kids and so it is kind of a difficult thing because you know it is the end of the line, so it really makes it kind of difficult to say, 'I am done.' It is tough."
More important than his coaching acumen, Caddy was an educator for 30 years, officially retiring in 1998 – but he never left the coaching ranks.
Coaching arm spanned far
Caddy's coaching resume reads like his favorite pastime, a novel.
After making the trek to the gorge area after graduating from the Oregon College of Education, now Western Oregon University in 1968, the Hood River High School graduate jumped right into the coaching world as a freshman football coach at The Dalles High School.
He would later earn a promotion to varsity coach, bringing his high-octane passing offense along with him.
In 1972, he led the Indians to an 8-1 record and a Wilco League title.
Back then, the Wilco League consisted of West Linn, Putnam, Lakeridge, Centennial, Barlow and others.
That squad ended up losing in a first round playoff contest to Grants Pass.
He added some more seasons as a junior varsity coach and the freshman team.
That crop of players wound up being part of a TD team that finished fifth in the state at its peak.
From there, Caddy moved on to the middle school ranks with fellow coaches Kent Smith, Richard Rolen and a few others.
"What we wound up doing at the time was sending 30 kids who knew a little football to the high school program," Caddy said. "That was the neat thing about that. I really think the kids loved football at that time because they always had fun. We passed the ball seven out of 10 times, so many of the kids had an opportunity."
Caddy also coached girl's varsity basketball for three years, making playoff appearances all three times.
One of his teams bulldozed through league with a 10-1 record, but standout Abby Hayes got hurt.
TD made the playoffs, but ended up losing in the early rounds.
"She may have been one of the best players who ever played here in The Dalles," Caddy said. "If she hadn't got hurt they could have been very good. After I left, Andrew Hughes (TDW's current boy's tennis coach) came in and took the girls to fifth in state."
From the girl's side, Caddy threw his hat in the boy's hoops circuit with flashes on the freshman team, junior varsity and varsity, garnering moderate success, coaching one of the smaller league teams against some larger programs.
For the past six years, he has strictly been a track and field coach in the high jump and both hurdle events.
In his more than four-decade span as a track coach, Caddy aided in some quality performances, including the girl's back-to-back state championship teams from 2003 and 2004.
He made a difference for Cody Stelzer, who high jumped to heights of more than 7-feet in college and the emergence of current Oregon Institute of Technology athlete and two-time district hurdle champion Jake Murray — but the coach also dealt with tragedy in July of 1992.
Caddy had a sophomore phenom named Jared Leavitt, who ran the hurdles in 14.6 seconds and high-jumped 5-feet-11 inches.
"He died that summer. It was sad," Caddy said. "This kid was such a hard worker. (He was) probably the best athlete I have ever coached. It was tragic."
Molding state stars of the future
That is what makes his task so tough.
He makes an emotional connection with his athletes.
He mentioned names from this year's team like Katie Conklin, Harris Farr, Katie Burns and 2013 state qualifier Zach Nerdin.
In his junior season, Nerdin hit personal records in the 110-and 300-meter hurdles (44.24) and tied his best mark in the high jump at 6-1. He had a time as fast as 16.08 in the 110 and finished second at the 2013 Columbia River District Meet with a 16.15 to qualify for state.
Caddy has been Nerdin's coach for the past two seasons and the Tribe athlete said he was pushed harder than he has ever been.
"He has taught me so much, not only track, but valuable lessons that will help me in life," Nerdin said. "I know I will be a better person and athlete because of the lessons I have learned from him."
Just imagining the 45 years Caddy has been a coach, opened Nerdin's eyes on how much people will miss Caddy's influence.
"I'm sure people have learned from him as much as me or more," Nerdin said. "If that is the case, then he has definitely made a huge impact on more than 500 or 1,000 lives and that really says something about his character."
Coaching was in the bloodlines
From his high school days, Caddy had that coaching bug.
He had been mentored by some influential minds, coaches that focused on the fundamentals of each sport.
In middle school, Willard Schilling was pivotal in molding Caddy's athletic career, as was high school basketball coach Ed Vannet and football coach Jim Porter.
In college, hoops instructor Bob McCullough set the tone with great practice technique and NAIA Hall of Fame football coach Bill MacArthur earned some praise.
"They were good teachers. I knew I wanted to do that," Caddy said. "When I got to the Dalles, I tried to go to all the clinics that I could – basketball and football, so I could expand my repertoire on how to coach different things in football and how to coach different things in basketball. I wanted to get better."
In his early days, Caddy said he was fire and brimstone as a coach, but as the years went on and he gained more experience, he mellowed considerably and reaped bigger benefits as a result. Current TDW cross country coach Bob Thouvenel knows Caddy's philosophies from the 43 years they have coached together.
There was always something that stood out.
"He was always a real consistent coach. You always knew what you were going to get," Thouvenel said. "He always worked with the kids on fundamentals. If he didn't think they were doing the right thing, then he got after them. He just had high expectations for the kids. The kids knew his expectations and worked hard to meet those or even go beyond."
Coaching expands a wide circle in 45 years.
Al Miller was Thouvenel's coach in high school and once Miller retired from his top post, Ed Westland took over for five seasons, before Thouvenel took over the TD post for 32 years.
Garth Miller then took the reins in 2000 and he has maintained the post since.
Caddy answered the call for the entire time as an assistant to Al Miller and instructor to young Garth.
Coach Garth Miller is thankful he had years of knowledge at his disposal.
"He was just great to work with," Garth Miller said of Caddy. "He is all the things you can say about a coach you would want. He is dependable, hard working and really enjoys his job and loves working with the kids. Bill is going to be missed. He has been an anchor to our program. He has been a real asset to our program. I just want to thank him for his years of dedication to the sport and dedication here at The Dalles and now The Dalles Wahtonka High School."
A retirement plan is hatched
There is no need to feel bad for coach Caddy, as he leaves a strong legacy of winning in place.
At this point in his life, he understands the sacrifices his wife Gladys has made through the years.
It is a fine balance, but as he walked off into the sunset, he pointed to her undying support as a major reason to hang it up – he owed it to her.
Now the duo can enjoy some free time to travel and see the world – her favorite pastime. Bill Caddy will do a little more fishing, he plans on sticking to a three-day-a-week workout regimen and he is determined to work on his golf game with due diligence.
Aside from the athletic endeavors, Bill and Gladys prepare taxes for low-income families, the elderly and whoever else. He will remain on the Board of Directors at The Dalles Country Club as well as the budget committee at his local church. He also is very skilled at making wine, loves to hit the pavement on his motorcycle going 75 miles an hour on Interstate 84 and enjoys a good novel now and then.
"Track is three hours day. Instead of coaching, maybe I can go down to the Deschutes when the Steelhead start running. Or I can go up to one of the reservoirs out there for trout fishing, where I would have been coaching," Caddy said. "There is more open to me. I think I would rather coach though. I will always have that itch."