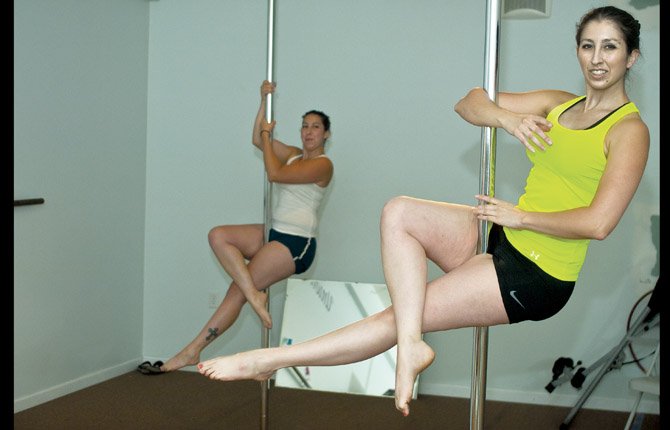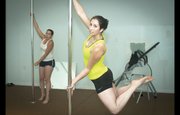 Pole dancing is going mainstream, and The Dalles is in on the trend. "It's been taken out of the strip clubs and changed from being an art to being more about fitness and gymnastics," said Desiree Frasier. She started teaching pole fitness classes at the Muscle and Fitness Center in January.
She emphasizes that pole dance and pole fitness are actually two different things — one focuses on suggestive moves and skimpy costumes, the other is about feats of strength, balance and flexibility.
"The women who take the class are seeing their strength increase. Their arms are more defined, more toned. Their friends are saying 'I noticed you're losing weight,'" Frasier said.
She said when most people join the class they don't have the strength to hold their full body weight up for more than a couple of seconds. Now many of her students can do spins and other tricks that require holding their body weight up on the pole for 20 seconds or more.
Biceps and triceps aren't the only muscles used in pole fitness, which is considered a full-body workout. Legs are toned when participants hold themselves up by gripping the pole with their thighs. Climbs require strong abdominal muscles, shoulders, pectorals and core muscles.
A one-hour class burns between 300 and 500 calories for most women.
Frasier said she hopes to offer more advanced classes eventually when she has enough experienced students, but for now she doesn't teach more dangerous moves like inversions.
"You have to build up strength to support your weight on the pole and not fall on your head," she said.
Although most of Frasier's class is about exercises to build strength, participants do get to put what they've learned to music.
"At the end of the class we have time for freestyle, when they can take some of the things they've been working on, the spins and holds, and put it together in their own combinations," she said.
Frasier said the moves learned in pole fitness classes are usually more athletic and more complex than those of professional exotic dancers, who often "aren't really using the pole, just dancing around it." In fact, Frasier said it's not uncommon to find professional pole dancers attending classes to increase their repertoire.
Most of Frasier's current crop of students is women in their 30s and 40s, but she does have older and younger women and one man.
"I have one male student that mixes well with the women," she said. "I really screen the guys to see if they're really interested in the fitness."
Her boyfriend has tried the class as well, and said he woke up the next day with sore muscles he didn't even know he had.
Although pole fitness has been big in other countries for almost a decade, Frasier said there is more of a stigma in the United States, where it has taken longer to catch on. Descriptions of pole fitness classes in the U.S. vary—some are strictly exercise classes, while others play up the sexy factor a little more with high heels and dance moves (Frasier's student exercise barefoot).
There are also serious competitions, which focus on gymnastics and take away points for overly suggestive moves. An Australian newspaper recently described the Australian Pole Fitness Championships, described as "part of a wider bid to have pole dancing recognized and possibly included in the Olympics one day."
Frasier said she enjoys watching the competitions online and draws inspiration for new aerial tricks from top competitors like Jenyne Butterfly, who has performed with Cirque du Soleil.
Frasier says she was "hooked" the moment she took her first spin around the pole. After she decided to teach her own classes it took a year to get a personal training certificate allowing her to teach pole classes.
"I need to know what muscles are being used to grip the pole and how not to injure them," she said.
Her first day of teaching was an exciting one. Her students convinced her to show off some more advanced moves high on the pole and she forgot that the ceiling fan hadn't been removed from the room yet.
"I ended up with 10 stitches to the head," she said, showing off the scar on her brow. "The ER nurses thought it was quite entertaining."