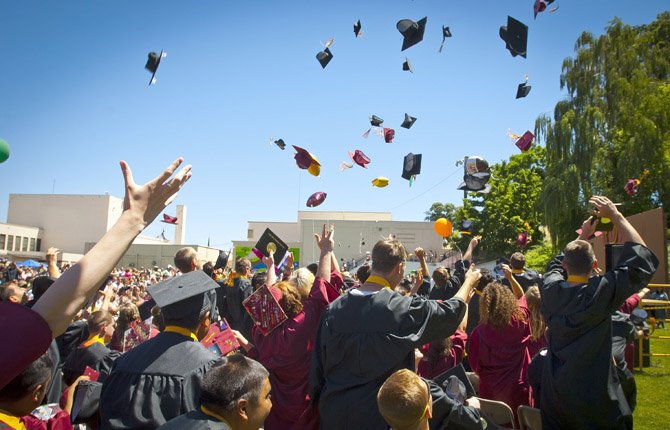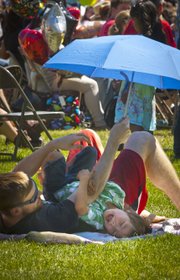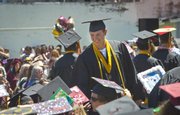 THE DALLES Wahtonka High School graduates end their childhood with the tradition of tossing caps following Saturday's commencement ceremony that was held outdoors on the campus.
Valedictorians for the Graduating Class of 2013 were: Lindsey Ellett, Taylor Luebke, Michael Morin, Anndria North, Madison Rotter and George Zenker.
Salutatorians taking the podium were: Maya Barnard Davidson and Grant Pearson.

Solos were performed by Evan Gooch and Shaina Lewis, and the Senior Duet of "My Way" by Frank Sinatra performed by Fernando Lopez and Josh Sexton.
KYLAN BAKER, 4, plays with uncle Jeremy Nisbet under the shade of an umbrella during graduation ceremonies at The Dalles Wahtonka High School Saturday, June 8. The Spanish message at the commencement was delivered by Jesus Fernandez and attending Senior Class Officers were: Lindsey Ellett, Madison Rotter, Anna Daggett and Cassie Dodd. Diplomas were presented by Candy Armstrong, superintendent of North Wasco County School District 21, Principal Nick Nelson and board members Carol Roderick and Brian Stahl.
The commencement speaker was Gina Aldridge, a former science teacher and the farewell was given by Nick Nelson, school principal.