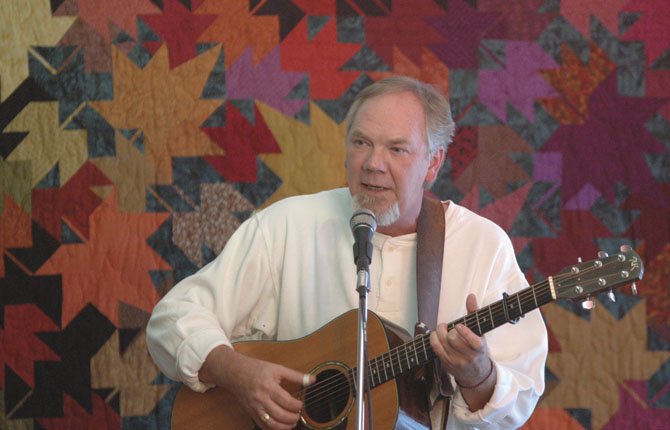 One of the joys of June in The Dalles is the chance to see one of America's wizard-class singer-songwriters, Eric Taylor, live and in person.
Wednesday, June 12, marks his ninth year of making the trip from his Texas home, to share his grits-and-honeysuckle voice, his expert guitar work and his stellar songwriting. He'll be holding a benefit concert at and for the Civic Auditorium, starting at 7 p.m. Tickets are $15, available at Columbia River Music and Klindt's Booksellers. This year Taylor brings a batch of new songs from "Studio 10," his new and aptly named 10th studio album.
One of the songs on the album has a connection to his appearances here. Taylor was a close friend of the late Bill Morrissey, and the song "Bill" is a tribute to his friend, who died in 2011. In the chorus, Taylor sings, "Canadian whiskey, cowboy rye/I oughta stop drinkin' but I don't know why/I've been through this town before/It's got a four-way stop and a liquor store." Promoter Dan Ross, who has been organizing concerts here for the past dozen years, said the reason Eric Taylor started coming to The Dalles was that Morrissey had appeared here in October 2001 to a sold-out crowd and greatly enjoyed it.
Ross noted that Taylor has built a strong and devoted fan base locally, and they will be pleased by the 10 tunes on "Studio 10." Two of the songs, "Tully's Titles," and "Tully," will be featured in an upcoming documentary film about 1920s boxer, author and vagabond Jim Tully. And several feature a look at love from a woman's point of view.
"I wrote a few songs from the perspective of women having enough of their old man," he told one reviewer. "I don't know where I could have gotten an idea like that."
Taylor has headlined the prestigious Newport Folk Festival, played National Public Radio's "Mountain Stage" and has appeared on both "Late Night With David Letterman" with Nanci Griffith and "Austin City Limits" with Lyle Lovett, Guy Clark, and Robert Earl Keen, all close friends and admirers.
As Nanci Griffith puts it, "To say that Eric Taylor is one of the finest writers of our time, would be an understatement." Lyle Lovett compares Taylor's narrative voice to that of Bruce Springsteen.