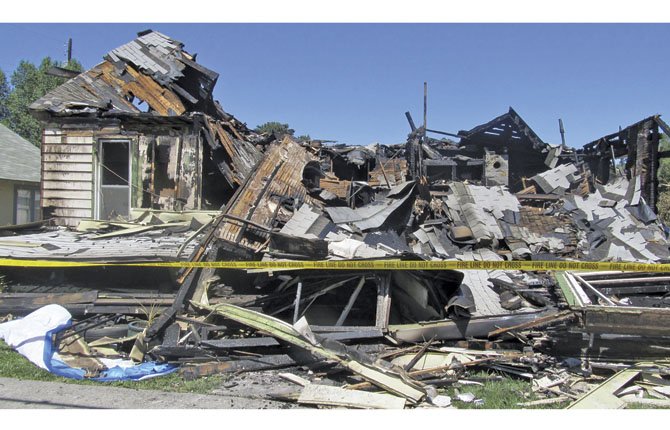 A fire that is believed to have been started Sunday by a careless smoker destroyed a home at 117 W. Eighth St. and damaged two other properties.
Twenty-five firefighters from Mid-Columbia Fire and Rescue and other agencies battled for two-hours to stop the spread of the blaze.
They were unable to save the residence or a travel trailer where the fire started. Both were fully engulfed in flames by the time they arrived.
Fire crews did stop flames from also destroying the houses of two neighbors. A fence, a pickup truck, landscaping and an attached deck were damaged behind 123 W. Eighth St.
The blaze also ignited grass and other vegetation across the alley to the north at 113 W. Eighth St.
That property owner called 9-1-1 about the semergency at 1:46 a.m. June 9.
"If you are a smoker, please make sure that cigarettes are fully extinguished before discarding, said Chief Bob Palmer in a follow-up press release. "Cigarette butts should also be discarded in a proper metal container."
Kate and Jose Alvarez and their four children, as well as a relative living in the trailer, were uninjured but lost everything in the fire. They have been provided with temporary shelter and food by the Columbia Gorge Chapter of the American Red Cross.
Palmer has been contacted by several community members about a fund being set up to help the family.
He said school officials have also spoken with him about collecting clothes for the children, so there is a possibility that people wanting to help out will be provided with that opportunity sometime this week.

"They pretty much need everything at this point," he said.
Firefighters arrived at the scene within four minutes of being dispatched June 9. They immediately pulled hose lines from the first-arriving company and proceeded to attack the fire and protect exposures.
Downed power lines hindered fire operations until Northern Wasco County PUD arrived to deal with that hazard.
Officers from The Dalles Police Department and Wasco County Sheriff's Office handled traffic control, and The Dalles Public Works Department assisted with utilities.
Firefighters from Dallesport, Hood River, Wy'East, and Wishram came to help in the battle to extinguish the blaze and no one was injured.
According to reports, Michael Nobel, the uncle of Kate, awoke to fire and smoke June 9. He exited the trailer and attempted to fight the fire with a garden hose without success.
Palmer said the fire is considered an accident and no penalties will be levied against Nobel.
As weather conditions in The Dalles continue to get warmer during the summer months, landowners are asked to keep dry grass trimmed to prevent any fire that does ignite from rapidly spreading.
Also recommended is eliminating unnecessary storage and debris in and around structures to reduce fuels for a fire.